John Redwood hits back at Leighton Andrews schools jibe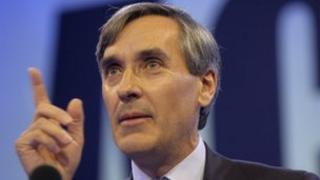 Former Welsh Secretary John Redwood has hit back at Labour claims that creating 22 local education authorities (LEAs) was a "historical mistake".
Education Minister Leighton Andrews said that no-one "sensible" would have done it, but adding "John Redwood did".
However, Mr Redwood told BBC Wales that "Mr Andrews is wallowing in ignorance of the mood at the time".
Mr Andrews has claimed the large number of LEAs is a factor in poor performance by pupils in Wales.
The spat arose after Mr Redwood was criticised by Mr Andrews during a speech at the Institute of Welsh Affairs (IWA) in Llandudno, Conwy.
Mr Andrews told the IWA in a speech that the structure of 22 LEAs helped lead to poor educational performance in Wales.
In 1995 they took responsibility from the eight former county councils which had run education in Wales since 1974 until their abolition in local government reorganisation.
"I have said repeatedly I would not have invented 22 local education authorities for a nation of three million people. No-one sensible would. John Redwood did," he said.
"The truth is that the Tory-imposed structure of 22 local education authorities is failing our children and it is not fit for purpose," Mr Andrews said.
"With the backing of the first minister and the minister for local government and communities, I have instructed my officials to scope out a more wide-ranging review on the delivery of education services.
"This will look at what should be undertaken at a school, local authority, regional and national level."
Mr Andrews said he believed the "fragmentation" of education authorities during the mid-1990s was a contributing factor for, what he called, the downturn in educational performance a decade later.
"I have given local authorities time and money to get their house in order but the evidence is overwhelming that this is not the case," he said.
Mr Andrews said it was time to "liberate" education from a Conservative structure that was holding the country back.
Mr Redwood told BBC Wales he rejected Mr Andrews' criticism but declined to be interviewed.
His fellow Conservative Jonathan Evans, MP for Cardiff North, told BBC Radio Wales that a debate on education was valid but he rejected the idea of restructuring local government.
"I do not think it is desirable for us to be spending money now reorganising local government," said Mr Evans.
'Third World standards'
"In the immediate term there are two things Leighton Andrews should be concentrating on - getting the authorities that we have got to work far more closely together, and the other thing is maybe Leighton Andrews should get back to the day job because we've had two reports, international reports and his own internal report, saying the standard of education in Wales is really slipping down to Third World standards."
Tony Travers, local government expert from the London School of Economics, said: "I think there's a regular debate about whether we should reform local government and I think it's been felt by some politicians in Cardiff that there are too many councils, too many unitary authorities in Wales, and perhaps for services such as education there should be fewer."
He added Wales could be left with a situation where there were fewer authorities, larger geographical areas which may lead to difficult access issues.