Regional pay rejection welcomed by Welsh government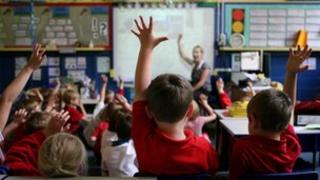 Chancellor George Osborne has confirmed controversial plans for regional pay in the public sector will not go ahead.
The Welsh government welcomed the decision, but said it wanted to see the details of another announcement about reforming pay for teachers.
Mr Osborne had asked pay review bodies to look at the case for ending national pay deals in the public sector.
It was suggested that private employers in some places could not compete with wages in the public sector.
But critics said that bringing wages in line with the private sector would involve cutting the pay of Welsh public sector workers.
All political parties in the Welsh assembly were opposed to the move.
In his Autumn Statement on Wednesday, Mr Osborne accepted recommendations not to press ahead with what the UK government calls market-facing pay.
National agreements will continue in the NHS and prison service and there will be no change for civil servants.
Performance
However, there are plans to strengthen the link between teachers' performance and their pay.
The School Teachers' Review Body says pay increases in England and Wales should be based on annual appraisals.
The Welsh government says teachers' pay and conditions will not be devolved and will remain the responsibility of the UK government.
It said it would consider the implications for teachers when it has seen the UK government's full response to the School Teachers' Review Body report.
First Minister Carwyn Jones said: "We are delighted the UK government has listened to our stance on regional pay and that national pay arrangements in the NHS and prison service will continue and there will be no changes to civil service arrangements."
The chancellor also announced public sector workers whose pay has been frozen will receive a 1% rise from next April.
Welsh Liberal Democrats welcomed the decision on regional pay, saying they had "put a brake" on their Conservative coalition partners in Westminster.