Asbestos medical bills Welsh law bid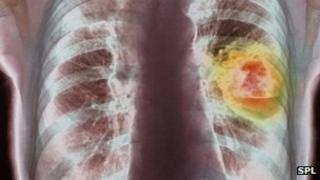 Assembly members will get the chance later to decide on a new law that could see businesses and insurers foot NHS medical bills for asbestos victims.
The bill is being introduced by the Pontypridd AM Mick Antoniw, who is a former solicitor representing patients with asbestos-related diseases.
He wants the Welsh government to have the power to recover an estimated £2m a year spent treating asbestos patients.
If AMs back the initial bill, it could move forward and could become law.
Speaking after formerly laying the bill before the assembly earlier this week, Mr Antoniw said: "This Bill recognises the tragic legacy and impact of asbestos disease on many Welsh workers and families and recognises the considerable cost to the NHS in Wales, of treating the disease.
"The Bill will enable the Welsh government to recover the cost of the medical treatment in cases where legal liability for the disease has been established.
"It is intended that the funds recovered will be used to provide additional assistance to asbestos victims and their families."
All forms of asbestos were finally banned from being used in the UK in 1999, after it became widely recognised as a serious health threat.
Used as a fire retardant in buildings, asbestos fibres can cause the fatal lung cancer mesothelioma, and the scarring of the lungs, known as asbestosis.
According to government statistics, 4,500 people a year die from asbestos-related diseases in the UK.
But it can be decades after the initial exposure before the illnesses appears, as former Vale of Glamorgan builder, Ron Wyde discovered.
'Bitter'
Now 72-years-old and retired, he worked with asbestos sheeting in his work across south Wales and in Europe.
"You had no warning about it really. No masks or nothing, if you were cutting it," he recalled.
"You are covered in the dust, it's in your hair, it's in your face. You just washed - that was it.
"I went to the doctors with bronchitis. He said it was the smoking. I was never examined in relation to the asbestos until not so long ago - and then they found out it was asbestos on my lungs."
He said the illness has had a huge impact on his daily life.
"I like a bit of gardening and that, but I find it tremendously difficult to do that. You're just not the same," he said.
"I'm an older person - if it had happened when I was younger, I would probably feel more bitter than I do now. But I still want to see my grandchildren grow up."