Awema: Race equality aim 'led to ministers' inaction'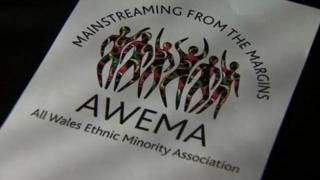 A keenness to promote race equality was behind ministers' failure to act on warnings about a scandal-hit race-based charity, says a top civil servant.
Swansea-based Awema was wound up in February after receiving more than £7m.
Cross-party AMs have demanded to know why warning signs by the Wales Audit Office (WAO) had not been acted upon.
Permanent Secretary Derek Jones said ministers gave Awema "the benefit of the doubt" a number of times because they were "reluctant" to intervene.
However, the charity's former chair, Dr Rita Austin, accused AMs of "strident, partial and ill-informed" attacks on the organisation.
Both were giving evidence on Monday to AMs of the Public Accounts Committee (PAC) investigation into the Welsh government's management of its grants to the charity.
Mr Jones said the WAO report - claiming the Welsh government failed to heed warnings about the way Awema was run - "made him wince".
The report was highly critical of a lack of oversight by the Welsh government for the money it gave to Awema to distribute to other groups over a decade.
Officials said that over that time successive ministers received more than 40 briefings or submissions on Awema.
But Mr Jones said that what had happened was an "administrative" rather than political failure and that much good work was still being done by groups promoting ethnic minorities' interests in Wales.
He added the Welsh government had always made this a priority.
Mr Jones said: "There is an element of tragedy, I think to this case, in that through the best of policy intentions and quite strong political leadership for Wales to do well in the field of race equality, we have ended up in this situation here."
Challenged as to why the organisation had not been investigated more thoroughly given the eight cases identified by the WAO, he said: "I'm inclined to say that the organisation was given the benefit of the doubt.
"I think there was a reluctance in terms of due diligence, and the monitoring of what was expected from Awema.
'Run its course'
"But also a feeling that because of the priority attached to working on equalities generally, and race equality in particular, a desire to see the work done, and as I say a willingness to give the benefit of the doubt to the organisation when in fact, as we now know, it would have been more prudent to intervene."
Dr Austin said there had been a lack of transparency in the decision to terminate Awema's funding and changes on its governance and financial management should have been given a chance.
She singled out a comment made by the PAC chair Darren Millar AM at the time who questioned whether Awema had "run its course" as an organisation.
Dr Austin said, "These prejudicial comments followed 20 days, at least, of constant, strident, partial, often ill-informed interventions by AMs of all opposition parties, including their leaderships, against Awema, which fed into, and legitimated, an unremitting negative media.
"And all this at a time when radio silence should have been observed by all politicians in order to avoid influence during the conduct of that review."
However, she accepted that she had been "appalled" by some of the issues she discovered when she became chair of the organisation for a second time in November 2011.
But she said the Equalities Unit within the Welsh government which was largely responsible for funding and monitoring the organisation was "wholly dysfunctional".
Administrators were called in to wind up the charity's affairs after a Welsh government report said there was a "fundamental lack of control" in February.
Charity funds were used to pay for gym membership for staff worth £2,120, rugby and cricket tickets totalling £800, and a £110 parking fine for former chief executive Naz Malik.
South Wales Police have investigated allegations of dishonesty by Awema personnel and a file has gone to the Crown Prosecution Service.