New Welsh government drive to improve fitness levels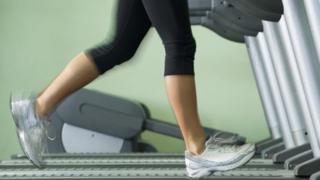 Methods to encourage people to exercise more, eat healthily, drink less and stop smoking is expected to be launched later.
The Welsh government's public health green paper is partly designed to improve life expectancy.
It is a consultation document looking ahead to a planned Public Health Bill.
The green paper is designed to stimulate debate and gather feedback from organisations and the public about ways to stay healthy.
Earlier this year the Welsh government was urged to do more to encourage people "off the sofa" as it emerged the amount of exercise people did in Wales had not changed in 10 years.
The Welsh health survey in August showed one in three took no exercise - 36-38% of women and 30-32% of men.
The Welsh government said the figures were not unique to Wales, but showed "the scale of the challenge".
'Human psyche'
Dr John Parkinson, a research psychologist at Bangor University, said the green paper was interesting because people were given messages all the time and took no notice of them.
"The newer trick is to focus on a different aspect of getting people to change behaviours, so essentially the problem is that we say we want to change, I say: 'I want to be healthy, I want to eat healthily, I want to exercise more,' but I don't do it.
"I think that's the big problem the government has recognised.
"A new look at behaviour change suggests that by targeting other aspects of the human psyche can actually be much more effective in changing our behaviour for the better."
He said behaviour change was about "attacking the herd mentality" or using it to form new habits.