Cancer: Wales waiting times target for urgent patients missed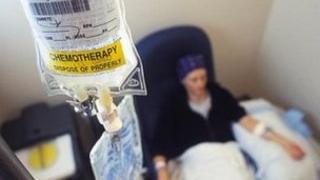 A waiting times target for urgent cancer patients has been missed as fewer people start treatment on time.
The Welsh government wants at least 95% of patients to start treatment within two months of being referred as urgent cases by their GPs.
But for the three months to the end of September, only 86% started treatment within the target time - the lowest proportion since March 2007.
The target has been met in only two quarters since it was set in 2006.
According to Welsh government statistics waiting times for urgent cases have got worse since the previous quarter to the end of June when 88% waited two months.
In the quarter to the end of September, 1,180 out of 1,373 people referred as urgent cases started treatment within two months.
Waiting times vary according to where people live and the type of cancer they have.
Aneurin Bevan was the only local health board to meet or exceed the target. Abertawe Bro Morgannwg University health board was the worst performer at 75%
Across Wales, 226 out of 227 patients diagnosed with breast cancer after they were referred by their GPs waited less than two months to start treatment. For head and neck cancer, it was 32 out of 61.
The Welsh government has been asked to respond.
Conservative health spokesman Darren Millar said: "This is the health minister's responsibility and until these delays are permanently shortened we are nowhere near a first-class cancer treatment service in Wales."
Welsh Liberal Democrat leader Kirsty Williams said: "Sixty-two days is already a incredibly long time for a person to have to wait to be seen by a cancer specialist, but being forced to wait even longer than that is completely unacceptable."
Plaid Cymru health spokeswoman Elin Jones said her party would "introduce a care plan to improve the treatment of patients through the system, from diagnosis to recovery".
A separate target was met for treating within 31 days 98% of patients who are not referred by GPs as urgent cases but are subsequently diagnosed with cancer.