Call for tougher GCSE tests on literacy and numeracy welcomed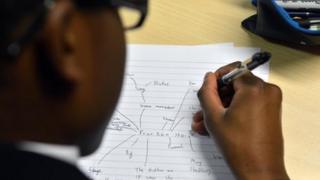 Employers' leaders in Wales have welcomed proposals to improve the reading, writing and maths abilities of teenagers.
A review into qualifications says "more challenging" GCSEs should explicitly test literacy and numeracy skills.
It was responding to concern from businesses and universities that standards are not high enough.
The CBI said the report's emphasis on literacy and numeracy was critically important.
The independent review into qualifications for 14 to 19-year-olds says GCSEs are not reliable indicators of skills in the so-called 'three Rs'.
"Some employers and universities consider that grade C, or even above, does not guarantee sufficient literacy or numeracy," it says.
Only 13% of the marks in GCSE English language this year were for spelling, punctuation and grammar. Students could still get an A-C grade without those marks.
The report says Welsh first language GCSE places more emphasis on the three core skills, but in both languages weaknesses in some areas can be compensated by strengths in others.
Practical skills
It says introducing "more challenging GCSEs, which more explicitly assess literacy and numeracy, could improve the relevance of core GCSEs and help increase public confidence in these key subjects".
There should be "significantly more emphasis" on the quality and accuracy of writing, it says.
And it calls for two maths GCSEs - one on numeracy and the other covering aspects of mathematics techniques.
CBI Wales director Emma Watkins said: "The emphasis on literacy and numeracy is critical. First and foremost businesses need young people with functional literacy and numeracy skills, and it is crucial that there is an understanding of how to practically apply these skills in context, as well as reforms to GCSE English and maths."
She also welcomed a recommendation that pupils receive the same Welsh Baccalaureate qualification at each level, regardless of whether they do academic or vocational subjects.
The review says vocational courses should give pupils a general introduction to an industry, rather than training them for a specific job.
The recommendations on GCSEs follows a row between the Welsh and UK government over this summer's English exams.
Welsh Education Minister Leighton Andrews ordered the WJEC exam board to re-grade papers, saying the way that grade boundaries were set had been unfair to Welsh pupils.
The qualifications review recommends setting up a new body to regulate exams.
'Restore confidence'
Elaine Edwards, general secretary of teaching union Ucac, said: "In the wake of the highly politicised GCSE English debacle this year, there is a very serious need to renew the credibility and integrity of the regulatory systems."
In a statement, the WJEC said the proposals on regulation "merit further evaluation and detailed discussion, however these must not distract from the urgent need to develop 14-19 qualifications and learning programmes which fully meet the needs of young people in Wales".
The board also endorsed the idea that qualifications in Wales should diverge from the system in England.
For the Conservatives, shadow education minister Angela Burns said: "After a series of damning league tables and statistics laying bare failings in the Welsh education system, we need robust qualifications to restore confidence and drive up standards to meet the best in international comparisons."
Welsh Liberal Democrats education spokesman Aled Roberts said: "The mess that unfolded this summer highlighted that it shouldn't be left to the education minister to be the sole decider on the way exams are awarded.
"It is crucial that this new regulator is very much independent from the Welsh government."
Plaid Cymru spokesman Simon Thomas said: "In the past, I have raised my concerns about the growing marketisation of the exam system, and have advocated a single exam board structure as a means creating a fairer playing field.
"It is vital that Welsh students can have their abilities measured through a unified, standardised and above all, fair system and I therefore welcome the review's recommendation to establish a single regulatory body."