British-Irish Council talks on economy and budget stimulus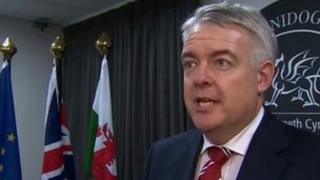 Ministers from around Britain and Ireland have been discussing the economy at a meeting in Cardiff Castle.
The Welsh government, which hosted the British-Irish Council summit, wanted to share ideas about infrastructure.
It is the third time the body has met in Wales since it was set up as part of the Northern Ireland peace process.
Energy will be the focus of the next summit in Derry in 2013, with Irish prime minister Enda Kenny predicting the export of wind power to Britain.
The council brings together ministers from the UK, Scottish and Welsh governments, the Northern Ireland executive, Jersey, Guernsey, the Isle of Man and the Republic of Ireland.
Representatives of the governments discussed the role of infrastructure in helping economic growth.
It came amid mixed news for the Welsh economy.
The most recent statistics showed unemployment was down by 5,000 in the three months to September.
However, steel giant Tata announced last week that it would be shedding almost 600 jobs in Wales.
Following the meeting, Scotland's deputy first minister Nicola Sturgeon said the UK government's autumn budget statement on December 5 was an opportunity to announce further capital stimulus.