Severn bridges toll increases to £6.20 for car drivers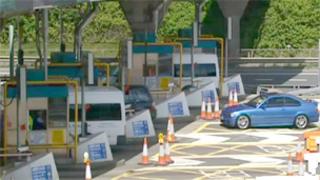 Drivers using the Severn bridges face an inflation-busting toll rise of 3.3%, the UK government has said.
Cars travelling from England to Wales on the M4 and M48 crossings will be charged £6.20 in the New Year - up from £6 this year.
The tolls for vans, lorries and buses will also increase on 1 January.
The Welsh government said the UK government controls the tolls and should justify the hike to the people of Wales.
The cost for vans and minibuses will rise from £12.10 to £12.40 (2.5%), and from £18.10 to £18.60 (2.8%) for lorries and coaches.
The increase was revealed following a written Commons question from Labour MP for Newport East Jessica Morden.
Inflation rose from 2.2% in September to 2.7% in October.
The toll levels will be confirmed by Transport Secretary Patrick McLoughlin next month.
Motorists only pay to enter Wales. Driving into England is free.
Operated by private company Severn River Crossings Plc, the bridges are used by about 80,000 vehicles every day.
The company's concession will end when takings from the tolls reach £996m at 1989 prices.
Welsh Secretary David Jones said the tolls were set by a formula to repay the cost of building the bridges.
"Obviously the issue of the toll is one that we are keeping a close eye on," he said.
"By the same token we have to remember how important it is to have two well-maintained crossings."
The possibility of devolving control of the bridges when the current franchise ends was "one of a number of options that are under consideration".
Abolishing the tolls
First Minister Carwyn Jones has called for control of the bridges to be transferred to the Welsh government in 2018.
A report commissioned by the Welsh government last month said businesses and consumers spend £80m a year crossing the Severn bridges.
It said abolishing the tolls would increase traffic by an estimated 11,000 vehicles a day and could boost south Wales' economic output.
A Welsh government spokesman said: "The UK government control the level of tolls on the Severn crossings, and it is a matter for them to justify this increase to the people of Wales."