Assembly recall possible over council tax benefits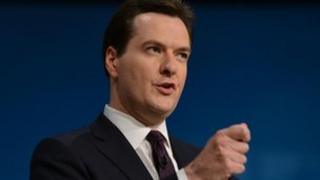 The Welsh assembly may have to be recalled from its Christmas recess to avoid a "crisis" in council tax benefit, the Welsh government says.
Ministers say they are being forced to rush through arrangements for a new devolved benefit system.
But the Treasury says there has been plenty of warning about the changes.
Almost 330,000 families receive council tax benefit in Wales, making it the most widely claimed means-tested benefit or tax credit.
The UK government is devolving responsibility for the benefit under welfare reforms.
The Welsh government says the Treasury has not revealed exactly how much money will be available for the benefit and is unlikely to do so until the Chancellor's autumn statement on 5 December.
It is estimated that the budget will be cut by about 10%.
Until it knows exactly how much funding there will be, the Welsh government says it cannot lay the necessary regulations before the assembly.
The assembly's last full session of the year is on 6 December and the regulations need to be laid seven days before AMs discuss them in the chamber.
Local Government Minister Carl Sargeant says the timescale makes it almost impossible for local authorities to have their schemes in place by a deadline of January 31.
He said unemployed people and those on low wages needed the scheme "to support their families in a most volatile financial time".
"I can't answer for the UK government. All I know is that they are causing a potential crisis in Wales," he said.
Responsibility for the scheme was being transferred from London to Cardiff with a "significant reduction in finance", Mr Sargeant added.
"It's essential that we know what the deficit is in the budget in order for us to produce the regulations for delivery for 330,000 families across Wales in April."
A Treasury spokesman said: "The localisation of council tax benefit has been public knowledge for more than two years.
"The information required to proceed has already been made available.
"There is no requirement to wait for the autumn statement to begin this process and indeed local authorities in England are already finalising their schemes."
'Spat'
Opponents have criticised the Welsh government for not using its own budget to plug an estimated shortfall of more than £20m, but Mr Sargeant says he simply does not have the money.
Plaid Cymru AM Rhodri Glyn Thomas said Labour had been "totally irresponsible".
He said: "I think the Welsh government are more interested in having a spat with Westminster than they are in terms of placing these regulations and ensuring that everything is in place before 1 April."
The Welsh Local Government Association (WLGA) said councils "urgently" need confirmation from the Treasury about how much funding will be made available to change the council tax benefit system.