Supreme Court rejects UK government by-laws challenge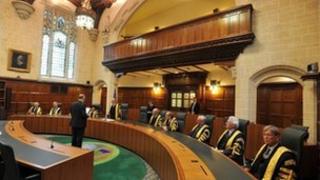 The Supreme Court has upheld the legality of the first bill passed by the Welsh assembly.
Attorney General Dominic Grieve claimed the Local Government Byelaws Bill goes beyond devolved powers and wanted the UK's highest court to overturn them.
The bill allows Welsh councils to make by-laws without ministers confirming them.
But the unanimous ruling by five Supreme Court judges means the bill can go to Royal Assent and become law.
The assembly won direct law-making powers at a referendum in March 2011.
First Minister Carwyn Jones said: "I'm very pleased the Supreme Court has ruled in our favour in this case.
"Their judgment is confirmation that the Welsh government's position was right."
'Clarity'
Welsh Secretary David Jones said he and Attorney General Dominic Grieve were grateful to the court "for providing clarity".
"This judgment will assist both the Welsh and UK governments as to where the devolution boundary lies," he said.
"The government appreciates this clarification, as the referral was made to clarify the boundary of the Welsh devolution settlement, not to interfere with the policy objectives of the Welsh government.
"Any referrals to the Supreme Court should not be seen as hostile, but rather the appropriate mechanism of ensuring devolution works smoothly."
The assembly's presiding office, Rosemary Butler, said the unanimous ruling by the judges was a "victory" for the assembly.
She said: "It confirms the authoritative legal advice given to me and demonstrates that the assembly is a mature institution that has the right procedures and staff in place to interpret and implement the devolution settlement."
The Welsh government will call for changes to the way the assembly's powers are defined.
The first minister said a new system to govern what the devolved legislature can and cannot do would make challenges to the Supreme Court less likely.
He said he would make a "strong case" for a system that clearly distinguishes what is devolved and which powers, such as over foreign policy and defence, are "reserved" to Westminster.