Silk Commission expected to recommend some tax powers are devolved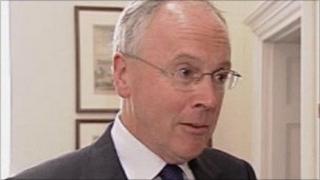 The Welsh government should take responsibility for raising some of its budget from taxes, a cross-party inquiry is expected to say.
New powers would mean ministers in Cardiff could vary a range of taxes for the first time.
The first report of the Silk Commission will suggest ways to make the Welsh government more accountable for the money it spends.
It was set up by the UK government to look at the future of devolution.
At present, most of the devolved administration's budget comes in an annual grant from the Treasury, currently worth around £15bn.
The cross-party commission chaired by Paul Silk, a former clerk to the Welsh assembly, was set up more than a year ago and is poised to deliver its first report on Monday, running to 200 pages.
It is understood it will say the Welsh government should have some tax powers, making it responsible for raising more of its own resources.
The Welsh government has called for powers over some taxes - such as stamp duty and air passenger duty - but says income tax should not be devolved without a referendum.
First Minister Carwyn Jones set out his position in a speech in London recently where he said full control of income tax was "some way off".
As an alternative in the short term, he suggested a form of income tax "assignment".
That would mean part of the Welsh government's resources come from Welsh income tax receipts, but without it having powers to vary income tax rates.
"Full devolution of rate-varying powers could follow at a later stage, with popular consent," he said.
Other taxes, such as VAT, were not suitable for devolution, he said.
Borrowing
The Treasury has already reached an agreement with the Welsh government over allowing it limited borrowing powers.
The deal is conditional on the Welsh government getting a new source of income from taxes.
In his speech, Mr Jones said assignment could provide that income stream and give the Welsh government "a direct financial stake in the economic prosperity of Wales".
The commission was set up as part of the Westminster coalition agreement between the Conservatives and Liberal Democrats.
An opinion poll for the commission in July found 64% of people thought powers to set income tax should be devolved to the Welsh government.
Keith Edwards, director of The Chartered Institute of Housing Cymru, told BBC Radio Wales that having control of the "economic levers" and using them intelligently would enable leaders to "intervene in a way that is relevant to the economy of Wales".
And aviation expert John Horne, former managing director of Cardiff International Airport, said reducing such things as airport tax and fuel duty would help stimulate traffic by increasing passengers and, therefore, revenue to the Welsh government.
The next stage of the commission's work will be to review the assembly's powers. It is due to publish a report on the devolution settlement by the end of 2013.