Welsh assembly first post-referendum law 'historic' day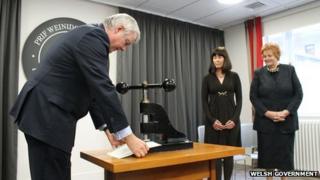 The device in this picture might look like something you find in a DIY shop, but in fact, it is a crucial piece of law-making apparatus.
After the drafting, scrutiny, debating and voting is finished, the Welsh seal is pressed onto the assembly's legislation.
This is the tool for the job and it was used in anger for the first time on Monday.
It's an historic day, says First Minister Carwyn Jones.
As keeper of the seal, he placed it on documents signed by the Queen giving Royal Assent to the Official Languages Bill.
It makes the bill the first piece of legislation to become law since the assembly acquired direct law-making powers in March 2011.
Supporters of devolution have longed for the institution to have the power to make laws without reference to Westminster.
Last year's referendum result gave them what they wanted.
A ceremony at the Welsh government's offices in Cardiff on Monday confirmed those powers have been used for the first time. But what does it mean for the government?
This bill was written by the assembly's authorities, not by the Welsh government, and it only applies to the assembly itself. Critics have said it does not go far enough.
What's more, this is not the first piece of post-referendum legislation that AMs have approved.
That honour goes to a highly-technical bill to reform the way local by-laws are made which is being challenged in the supreme court by the UK government.
When voters registered an overwhelming Yes in the referendum, Mr Jones said there would be no rush to pass laws - no legislation "just for the sake of it".
So how long is long enough to wait before the first piece of government legislation arrives on the statute book?
Wait too long and Labour will be accused of failing to use the powers it campaigned for.
Act too soon and Mr Jones will be accused of braking his promise about avoiding undue haste. His opponents will damn him either way.
If the government gets its way, assembly members will have plenty of opportunity to pore over more bills before the next election in 2016, not least a potentially emotive proposal to change the law on organ donation.
Previously, the assembly would have needed approval from parliament before passing such legislation.
Now - as long as it sticks to devolved policies like health and education - the assembly can pass primary legislation much quicker.
Even if you don't think it's an historic occasion, the debut performance by the press at least demonstrates that when it comes to making laws, the assembly is getting used to doing it itself.