First Welsh assembly bill becomes law with seal of approval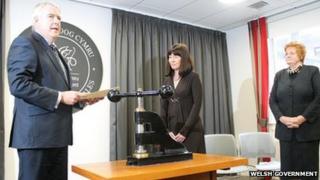 The first bill passed by the Welsh assembly since last year's referendum on its powers has become law at a ceremony in Cardiff on Monday.
First Minister Carwyn Jones fixed an official seal to documents signed by the Queen giving Royal Assent to the Official Languages Bill.
It is the first time the ceremony has happened since the assembly acquired direct law-making powers in March 2011.
Mr Jones said it was a historic occasion.
The bill became law when the first minister applied the seal and handed it to the clerk of the assembly.
Drawn up by the assembly's own authorities, the measure is designed to give equal status to the Welsh and English languages in the assembly.
The assembly has also approved legislation to reform the way local bye-laws are made, but it was challenged in the supreme court by the UK government before it could become law.
Mr Jones said: "Today is a historic day for us as a nation. It heralds the beginning of a new era for the governance of Wales."