EU referendum could 'imperil UK', Carwyn Jones warns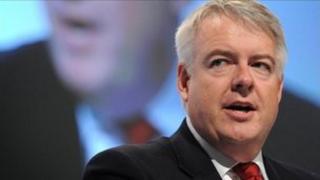 A referendum on membership of the EU could put the UK itself under strain, First Minister Carwyn Jones will say.
Some figures within the Labour Party want to offer voters an in/out referendum on the EU.
But Welsh Labour leader Mr Jones will say that advocates risk "imperilling the very future of the UK".
In a speech in London on Thursday he will also say the Welsh assembly should be able to nominate members of the House of Lords.
Last month, Labour defence spokesman Jim Murphy - a former Europe minister - said Britain would eventually have to stage a vote on its EU membership, but now was not the right time to do it.
Labour MP Jon Cruddas, who is leading a policy review for party leader Ed Miliband, has said Labour will consider the case for a referendum.
Former Welsh Secretary Peter Hain has also said Labour should not fear the idea.
But in a lecture at the London School of Economics, Mr Jones will warn about the prospect of English voters opting to leave the EU while other parts of the UK vote to stay in.
"That would put us under enormous strain, and could only serve the interests of those who wanted the United Kingdom to cease to exist," he will say.
"It is ironic that those who are pressing for an in/out referendum on the grounds of their commitment to the United Kingdom may actually be imperilling the very future of the UK as presently constituted.
"And that would be a matter of grave concern to the majority of people in Wales."
A similar scenario has been raised by Plaid Cymru MP Jonathan Edwards who this week said conflicting results around the UK about leaving the EU could fuel demands for Welsh independence.
It comes after Labour MPs sided with Conservative rebels to defeat the UK government in a Commons vote on the EU budget.
Income tax
Asked if he supported the tactic, Mr Jones told AMs this week that the Welsh government "would not be in favour of cutting the budget available for funds that help the people of Wales".
Also in his speech on Thursday, he will restate his position that control over income tax cannot be devolved without a referendum.
The Silk Commission into the future of devolution is due to report this month on whether the Welsh government should acquire new tax-varying powers.
Despite the "practical barriers" to income tax devolution, Mr Jones will say there may be scope for a system where part of the Welsh government's resources come from Welsh income tax receipts, but without the devolution of powers to vary income tax rates.
And he will say that if peers are to continue to be appointed to the House of Lords instead of being elected, the devolved legislatures should be allowed to nominate some of them.