Welsh language: No equality bill Supreme Court challenge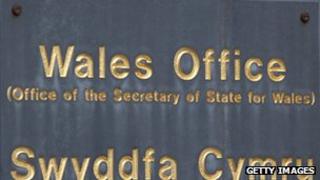 Legislation intended to put English and Welsh on an equal footing in the Welsh assembly will not be challenged by the UK government.
The office of Attorney General Dominic Grieve said he had decided not to take the Official Languages Bill to the Supreme Court.
The Wales Office had questioned whether the assembly had law-making powers over the English language.
The legislation will now go forward for Royal Assent before becoming law.
Passed by AMs last month, the bill is intended to give equality to the two languages in assembly proceedings and in the institution's dealings with the public.
It was drawn up and taken through the Senedd by the assembly commission - the all-party authority that handles day-to-day business in the assembly.
A commission spokesman said: "Rosemary Butler, the presiding officer, has received confirmation from the attorney general to indicate that following a discussion with the counsel general the question of competence regarding the Official Languages Bill will not be referred to the Supreme Court."
Supreme Court judges are already weighing up another piece of legislation passed by the assembly and challenged by the Attorney General.
He argues that a bill to reform local government bye-laws goes beyond the assembly's powers. It is the first piece of legislation passed by the assembly since acquiring new law-making powers last year.
'Wasteful review'
Labour attacked Welsh Secretary David Jones for questioning the languages bill.
Shadow Welsh Secretary Owen Smith said: "David Jones now has questions to answer as to why he persisted in seeking this wasteful review of the assembly's legislative competence - established after last year's referendum - and what has been the full cost associated with his referral.
"Until these questions have been answered, concerns will remain that the Welsh secretary is pursuing his own personal anti-devolution agenda."
A Wales Office spokesperson said the attorney general had considered the bill "in the same way as any other" and reached his decision after consulting Mr Jones.
"Our aim has always been to make the legislative arrangements in Wales work effectively, and we have made it clear that we are committed to working with the assembly and the Welsh government with a view to resolving questions of competence on any future bills at an early stage."
The attorney general's office said he considered all bills passed by the assembly, the Scottish parliament and the Northern Ireland assembly.