Voting: it's not as easy as it looks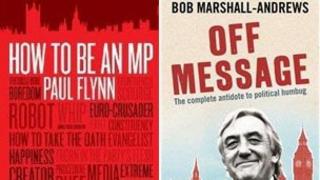 Labour MP Paul Flynn has won plaudits for his book How To Be An MP, with the guide to parliamentary life selling well to students of politics.
But even Mr Flynn, an MP for 25 years, cannot get it right all the time. A section on "how to survive the Speaker" reminds readers that "suspension from the Commons is now almost always contrived".
Almost always, anyway: Mr Flynn's recent red card from the Speaker was, he says, spontaneous.
In another section of the book, he offers advice to would-be MPs on "how to vote" - which, at Westminster, is not as straightforward as it sounds.
"It looks easy but it can be a trap," he writes. "Outsiders guffaw at the possibility of MPs voting the wrong way. After all the choice is simple, yes or no."
He points out that Commons language and procedure can be virtually unintelligible, leaving MPs "grateful for the sheepdog herding of the whips who direct them safely into the lobby of righteousness and truth".
That works - as long as MPs want to vote with their party leadership. Off Message, tThe memoir of another left-wing Labour MP, Bob Marshall-Andrews, recalls Mr Flynn voting the wrong way, supporting the government rather than joining the rebels.
The issue was a vote on the glorification of terrorism under the Blair government - a division the rebels lost by just one vote.
The next day, Mr Marshall-Andrews travelled to Newport to speak at a constituency dinner and stayed chez Flynn. This is how he tells the story:
'"Well , Paul,' I said, raising a glass of wine. 'That was damn close. We bloody nearly beat them.'
I perceived immediately that my good friend was somewhat uncomfortable.
'Paul,' I said, 'you were there, weren't you?'
'I was,' said Paul. 'but I voted the wrong way.'
It was not, of course, his fault. Paul is one of the very best, most independent and clever Members of Parliament, but his chronic suffering from arthritis is a daily public torture. In particular, he moves slowly and, on the crucial division, had arrived later into the lobby, immediately before the division bell and had been duly ushered into the "wrong" lobby by an officious government whip.
Of course I forgave him immediately, but it is worth reflecting that had his vote been different, outright victory would have been obtained, a memory which I would have treasured even more, to this day."
It's fair to say Mr Flynn's version of events is rather different - which may be why it doesn't feature in his advice on "how to vote".
Mr Marshall-Andrews was MP for Medway but has strong Welsh connections - check out his Pembrokeshire home. His memoir is subtitled "The complete antidote to political humbug" and is very entertaining, although one or two details are less than 100 per cent accurate.
He wrongly suggests that Alastair Campbell, Tony Blair's former spin doctor, worked for The Sun newspaper, and devotes a lot of space to a criticism of Labour's pitch for aspirational votes, confusing "Mr Galaxy" with the driver of the Ford Sierra Tony Blair famously recalled meeting during the 1992 general election.
Both books are worth reading, not least because they are written by politicians unusual for their lack of ministerial ambition.