GP contract talks breakdown over 1.5% funding offer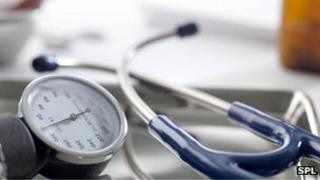 Doctors' leaders have rejected a proposed 1.5% funding increase for GPs in exchange for changes to the services they deliver.
Talks between the Welsh government and the British Medical Association (BMA) have broken down over the GP contract.
The BMA said the proposals would involve more "box ticking" and many family doctors were already "work-load saturated".
The Welsh government said it was "concerned" no agreement was reached.
'Stability'
BMA Welsh GP committee chairman David Bailey said the organisation was not calling for a bigger pay rise for doctors and that there was no threat of industrial action.
"We recognise that the money is not there. We are not asking for that," he said.
He called for "a bit of stability" so doctors can "concentrate on continuing to deliver the core services we are delivering at the moment".
"We are now in a position where we have got no more scope to take on more box ticking," he told journalists in Cardiff.
The rift between the BMA and Welsh government follows a failure to reach a UK-wide agreement on what services will be provided under the GP contract.
Dr Bailey said: "We are just saying we can't reach a negotiated agreement so if that's what you want to do you will have to impose it."
He said imposing changes to the contract would harm morale and could make it more difficult to recruit doctors, particularly in the countryside.
Negotiations
Dr Bailey said GPs in Wales were working on average 46 hours a week for an average income of £92,000, about £83,000 of which comes from the NHS, compared to an average income in England of just over £100,000.
About 60% of funding went on the running costs of surgeries, he added.
The changes to the contract have been recommended by NHS watchdog the National Institute for Health and Clinical Excellence (Nice).
But the BMA warns that hitting targets, for example on seeing patients with high blood pressure, would mean doctors have less time available for increasing access for other patients.
Although it is not part of these negotiations, the Welsh government has a commitment to make it easier for people to see their GP by extending practice opening times in the evening and at weekends.
The contract changes are also designed to introduce new measures for improving care for patients with long-term chronic conditions and prevent unnecessary emergency admissions to hospital.
A Welsh government spokesperson said: "The Welsh government is concerned and disappointed that despite discussions over a number of months between the General Practitioners Committee and NHS Employers it has not yet proved possible to reach agreement on changes to the GMS contract for 2013/14.
"In the absence of an agreement, the Welsh Government has offered GPs in Wales a 1.5% increase in investment in general practice to support the delivery of improved services for patients.
"Health Minister Lesley Griffiths has thanked GPs for their hard work and commitment to the NHS and to patients, and said the increase in investment was fair given the current financial climate.
"The Welsh government is considering carefully the issues and concerns raised by BMA Wales."