Working Futures report: Commuters will fill Wales jobs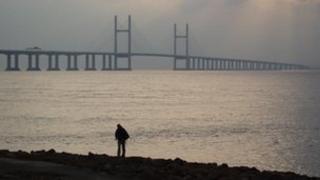 Many of the jobs predicted to be created in Wales over the next decade will be filled by commuters travelling in from outside the nation, according to an authoritative study.
It predicts unemployment will fall more slowly than in the UK as a whole and that the number of people out of work will shrink by just 3,000.
The Welsh government said jobs and growth were its top priorities.
One economist said its efforts should concentrate on the private sector.
The Working Futures report from the UK Commission on Employment and Skills is a large scale study to predict economic and labour market trends.
Its latest report on Wales finds:
The number of employed residents in Wales is predicted to grow by just 0.7% between 2010 and 2020, compared with 5.8% in the UK as a whole.
The unemployment rate may fall by as little as 0.2% in Wales, compared with 1.1% across the UK.
Growth in output in Wales is projected to remain about 0.5% per annum slower than the UK average between 2010 and 2020.
The report's authors say that the 5.3% predicted increase in employment in Wales over the next decade is slightly above the UK average.
However, with the number of employed residents in Wales projected to grow at a much slower rate, they say this suggests there is the potential for inward commuters to take many of the new jobs created between now and 2020.
This is backed up by the projection for a relatively modest fall in the numbers of unemployed people in Wales.
In 2010 there were 119,000 people out of work in Wales. By 2020 the report predicts the figure will be 116,000 - a fall of just 3,000, or 2.3%. Meanwhile the fall across the UK is predicted to be 10%.
'Palliative measures'
Economist Prof Brian Morgan, from Cardiff Metropolitan University, said: "The report seems to confirm what some of us have been saying for a while - that the focus of the Welsh government needs to be on private sector job generation above all else.
"It is time to eschew short-term public sector palliative measures and focus on driving capital investment - in infrastructure, inward investment and small and medium-sized enterprise (SME) growth, housing.
"The government's other objectives - on health, social services, and so on, will be easier to achieve on the back of an expanding economy."
Iestyn Davies from the Federation of Small Businesses in Wales said a balanced view was needed when reading the report.
"Those concerns echo some of the concerns we've already raised with the deputy member for skills.
"It's not that bad really when some people find commuting to Wales a good option. There are already people moving across the border for work and that's going to happen.
'Skills mismatch'
He added: "What we have to do is make sure the skills and workforce we have are fit for purpose.
"We know there's a skills mismatch now and we have to make sure that doesn't get any worse going into the future."
The Welsh government said its Steps to Employment programme offered out-of-work adults the opportunity to gain confidence and improve skills.
Meanwhile, the Jobs Growth Wales programme, which aims to create 4,000 jobs a year for young people, has put 1,832 young people into work since it began in April.
A spokesperson added: "Our absolute priority in these tough times is to create jobs and enable growth."