North Wales offender scheme on hold despite PM's praise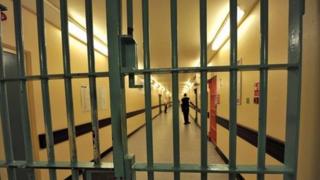 The UK government confirmed it suspended a scheme to rehabilitate offenders in north Wales - the same day the prime minister praised the policy.
The "payment by results" probation service pilot project sees organisations rewarded financially for keeping offenders out of jail.
David Cameron told MPs on Wednesday he wanted payment by results brought to the whole criminal justice system.
But the Ministry of Justice said the Wales and England schemes were on hold.
"I want to see payment by results being the norm rather than the exception," Mr Cameron said to MPs.
But the Wales Probation Trust has written to MPs to tell them the north Wales project was to be put on hold on the instruction of new ministers in the Ministry of Justice.
Wrexham Labour MP Ian Lucas said: "The prime minister stood at the despatch box... and said he wanted to see payments by results schemes succeed.
"Yet a flagship scheme being trialled in several areas, including here in north Wales by his government has been put on hold by his own Ministry of Justice team.
'Build on progress'
"It is not yet clear why this scheme has been paused, what the cost of the delay will be, or when or if it will resume."
He said he would be pushing the government for answers.
The north Wales project was launched in January when the Wales Probation Trust was given one of two pilot schemes in Wales and England.
The trust gets paid on a payment by results basis, so it is rewarded if it reduces prisoner reoffending numbers.
This type of scheme has been supported by new Justice Secretary Chris Grayling, as well as Mr Cameron.
A Ministry of Justice spokesperson said: "We are committed to seeing the principles of payment by results rolled out across the criminal justice system by 2015.
"Work to introduce new pilots is temporarily on hold whilst we confirm our plans for wider roll out.
"This is a complex area that has the potential to transform our approach to cutting crime and rehabilitating offenders and it is important we get it right, ensuring taxpayers' money is invested in what works.
"Much headway has already been made - we want to build on that progress and will set out our next steps in due course."