Apprenticeships 'decline' hits economic development says committee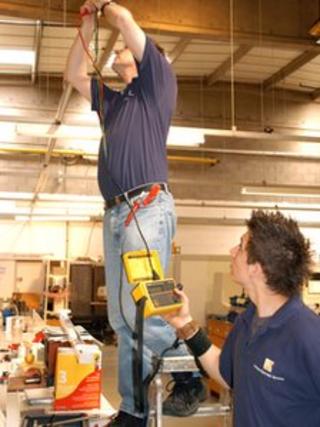 Assembly members say a "substantial decline" in apprenticeships in Wales may have far-reaching consequences for economic development.
The Enterprise and Business Committee says it has heard of soaring demand for places, with 900 applications for 25 places at one aerospace company.
A committee report claims potential employers often view apprenticeships as a cost rather than an asset.
The Welsh government said apprentices could help businesses grow.
Ministers have made a commitment to increase apprenticeship opportunities for young people as part of a five-year programme.
However, the committee found what it called "significant stigma, myth and gender stereotyping" surrounding apprenticeships.
'Change perceptions'
Members are concerned by a sharp drop in numbers in recent years, against growing demand.
Committee chair Nick Ramsay said apprenticeships could help reduce the high percentage of people not in education, employment or training - the so-callled Neets - in Wales.
"Its a real problem and one that has stubbornly resisted the attempts of then government to deal with it. Apprenticeships can certainly play a role in that," Mr Ramsay told BBC Radio Wales.
"If you look at the number of young people finishing apprenticeships at the moment, that's actually quite good. But the overall number of apprenticeships on offer is not good. That's something that's got to be changed.
The AM also said there should be a much earlier appreciation within schools that some young people would benefit more from going down the apprenticeship route.
"It's too late really when it comes to exam time or sixth form when young people are taking their decisions to then say 'Hey, you know what, there's actually an apprenticeship option.' That needs to be in the system far earlier."
Mr Ramsay said that with the removal of bureaucracy, small and medium-sized firms which make up 95% of the economy of Wales, could also play their part in taking on apprentices, and the whole image of apprentices would change.
At GE Aircraft in Nantgarw, there were recently 900 applications for 25 places.
The Enterprise and Business Committee recommends a campaign to change public and employers' perceptions of apprenticeships.
It also suggests targeting funding more closely to economic needs, and making the process of taking on apprentices easier, particularly for smaller firms.
The Welsh government announced £5m to create more apprenticeship places.
At a conference in Llandudno, deputy skills minister Jeff Cuthbert said he wanted employers to know about the benefits of taking on apprentices.
He said: "In today's market an apprenticeship holds as much value as a place at a top university, but it is only by raising the value and profile of apprenticeships that they will gain the parity of esteem with more traditional academic routes."
A spokesman said the government would respond fully to the report after considering the committee's findings.
"We believe that apprenticeships fuel the future essential skills base of our nation and offer undoubted growth opportunities for businesses," he said.
"However, we know there is a need to increase understanding and awareness of apprenticeships and the benefits they can bring to businesses."