Police commissioner: Elis-Thomas backs Labour candidate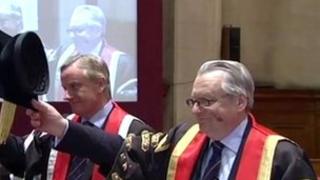 Former Plaid Cymru leader Dafydd Elis-Thomas has come out in support of the Labour candidate for north Wales police and crime commissioner.
The Dwyfor Meirionnydd AM said he would back Tal Michael in next month's vote.
Plaid has not fielded a candidate, and it said that how party members voted was a personal decision.
In July, the party whip was temporarily withdrawn from the peer after he did not attend a vote of no confidence over health minister Lesley Griffiths.
After Lord Elis-Thomas announced his support for him, Mr Michael said: "My campaign has been all about protecting our communities from UK government cuts to police budgets, supporting neighbourhood based policing, and increased victim support.
"I'm delighted that these issues have received cross-party support and welcome Dafydd Elis-Thomas's endorsement today."
Plaid said: "How our members choose to vote in this election is a personal decision for them and them alone.
"Where members have wanted to endorse candidates, however, we have encouraged them to consider individuals who support the devolution of policing to Wales.
"It is our view that the future direction of the police service in Wales should be a matter for the National Assembly for Wales and not the Conservative-led coalition government in London."
Criticised party stance
In the election on 15 November Mr Michael is standing against independent Richard Hibbs, Conservative Colm McCabe, Warwick Nicholson of UKIP, and Winston Roddick, also an independent.
Plaid leader Leanne Wood had withdrawn the whip from Lord Elis-Thomas for a time in July after he criticised his party's stance over the vote of no confidence.
Mr Hibbs responded to Lord Elis-Thomas's announcement by saying: "I wouldn't claim to be an expert on the internal politics of Plaid Cymru but I guess in some way it was always on the cards.
"I think Lord Elis-Thomas is descending from his party line - Tal Michael is clearly not an independent candidate."
Mr Roddick said: "It's an extraordinary thing for him to do, but that's Lord Elis-Thomas.
"It's a matter entirely for him."
Presiding officer
Mr Nicholson said: "I would expect Lord Elis-Thomas to support a fellow politician - and that's what Tal Michael is.
"I would have expect a Plaid politician, but in their absence we expected Lord Elis-Thomas to support him."
Mr McCabe said he had not been aware of Lord Elis-Thomas backing Mr Michael and said: "I don't have a view, to be honest."
Lord Elis-Thomas was presiding officer of the Welsh assembly for 12 years.
He was Plaid leader between 1984 and 1991 and has been an AM since 1999, previously serving as an MP since 1974.
In January, he was nominated by his local party to run again for the leadership, but came last in the first round of voting.