Awema: Opponents' urgent funding question for ministers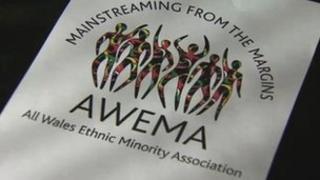 Opposition parties in the Welsh assembly have tabled urgent questions asking what ministers knew about funding for race equality body Awema.
The assembly presiding officer will decide whether to grant them before AMs' next plenary session on Tuesday.
The Wales Audit Office (WAO) says the Welsh government's oversight of now defunct Awema, which received more than £7m over 10 years, was often weak.
More than £500,000 in public money is not expected to be recovered.
The Welsh government believes it is still owed £545,966 by Swansea-based Awema (The All Wales Ethnic Minority Association), but an audit report this week says most of it will not be returned.
One of its authors has said the scandal surrounding the charity should be a "wake-up call" for the way the government distributes grant funding.
Lib Dem AM Peter Black said: "Assembly members have still have not received a written statement from a single government minister since this report was released.
"The people of Wales deserve answers as to why over £7m was thrown at an organisation that was clearly playing fast and lose with public money."
Plaid Cymru AM Rhodri Glyn Thomas has also called for a ministerial statement.
Awema was wound up in February after a damning report by the Welsh government's own internal audit service exposed "significant and fundamental failures".
It said charity funds were used to pay for gym membership for staff worth £2,120, rugby and cricket tickets totalling £800, and a £110 parking fine for former chief executive Naz Malik.
The latest report from the WAO says officials failed to heed a number of warnings over a decade about the way Awema was run.
Although Mr Malik was a Labour Party member, the WAO found no evidence of "inappropriate" influence by Labour ministers.
Permanent Secretary Derek Jones, who took up his post as the Welsh government's top civil servant last week, said action was already being taken to improve the management of grants to the third sector.
South Wales Police have investigated allegations of dishonesty by Awema personnel and sent a file to the Crown Prosecution Service.