Health minister backs new checks on doctors' competence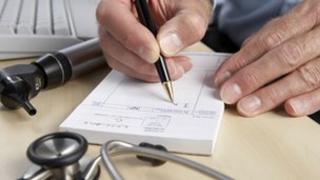 The health minister says new checks on doctors' skills starting in December will improve health care and patient safety in Wales.
Lesley Griffiths was speaking after the UK government announced doctors' annual appraisals.
A decision will also be taken every five years on whether they are fit to continue working.
The General Medical Council (GMC) described it as the "biggest change in medical regulation for 150 years".
If doctors failed to satisfy the standards of the GMC under the new system called revalidation they will be prevented from practising.
Mrs Griffiths said the Welsh government has been working closely with NHS Wales, GMC and the British Medical Association (BMA) to ensure medical revalidation will "support doctors in Wales in their professional development" along with the Wales Deanery, which is the body responsible for post graduate medical training in Wales.
She said the changes would "contribute to quality improvement and enhanced patient safety".
The Welsh government said the changes were needed as there are now over 90,000 technologies in use across the NHS.
"The new system will help doctors keep up to the standard expected of them by ensuring they stay up-to-date with the latest techniques, technologies and research," said a spokesperson.
'Very positive step'
"This will be important in making improvements in the early diagnosis and survival from diseases such as cancer and the better care of patients with conditions such as dementia, which is still poorly diagnosed."
GMC chief executive Niall Dickson said the system should help improve quality, but he admitted the health industry had been "slow to recognise" the importance of such checks.
Prof Derek Gallen, postgraduate dean for Wales, described the move as a "very positive step".
He told BBC Radio Wales the GMC will hold a register of all doctors so "patients can have confidence" in their GPs.
"This will be about them developing themselves and their practices," he said.
The professor said suggestions that in England the scheme would amount to a performance list of doctors was not the case in Wales.
"I don't see how once you have been relicensed how you can have a performance list," he said.
Dr Paul Worthington, chief officer of patient watchdog Cwm Taf Community Health Council in south Wales, said in England the approach being taken was more competitive whereas in Wales the system would be used to help doctors develop their skills.
Dr Eamonn Jessup, a GP in Prestatyn, Denbighshire, said an appraisal system in Wales was already regarded as a "gold standard" and that adding further checks is "going to be in everyone's benefit".