Awema is a 'wake up call for Welsh government' funding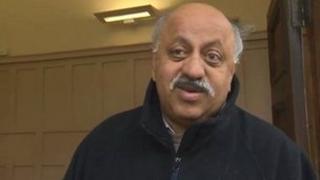 A scandal over how a race charity was given public money despite alerts on mismanagement should be a "wake up call" for the Welsh government's grant funding approach, an auditor has said.
The Wales Audit Office said warnings about the All Wales Ethnic Minority Association (Awema) were not heeded for a decade and millions were awarded.
The auditor said this was its 19th warning over grants management.
The Welsh government has said it was acting on the auditor's report.
A report published on Monday by the Wales Audit Office (WAO) said Welsh government officials failed to act on warnings before the race equality charity Awema was engulfed by a funding scandal because they feared being accused of discrimination.
Some civil servants were worried about criticism if they tackled the All Wales Ethnic Minority Association (Awema).
The body was wound up in February after "significant and fundamental failures".
A Wales Audit Office (WAO) report said officials failed to heed a number of warnings over a decade.
Assistant auditor general Anthony Barrett said: "What this report on Awema tells us is, to be honest, exactly what we've been saying to Welsh government over a number of years about their grants management.
"We published a report in November last year on grants management in Wales. In that report we listed 18 previous grant related reports over a five or six year period and Awema is almost number 19 in that list."
'Weak'
Speaking to BBC Radio Wales' Good Morning Wales programme, he added: "I would like to think that the Awema report and the amount of detail that's in there will be a wake up call for Welsh government in terms of delivering on it."
The findings on Awema were consistent with last year's report, he said. Both show "grants management in Wales is weak, lessons are rarely learnt and funders seem reluctant to tackle poor performance".
Mr Barrett said the problems highlighted in Awema's case were "symptomatic of a weakness within Welsh government around the management of its grant schemes".
There was not a clear picture of exactly how much money had been paid out, he said, and Welsh government departments were not sharing information.
Officials did not want to take sides in what they thought were personal disputes and were worried about being accused of discriminating if they took action against Awema, the WAO found.
Last November the WAO said it did not know exactly how many grants were being made available from public bodies. However, in one month it was able to identify 500 schemes, collectively worth around £2bn.
Between July 2000 and December 2011, the Welsh government paid a total of £7.15m to Swansea-based Awema. A further £3m had been committed in principle by the time it was wound up in February.
The Welsh government believes it is still owed £545,966, but the WAO makes clear that most of it will not be returned.
Administrators were called in to wind up the charity's affairs after a Welsh government report said there was a "fundamental lack of control".
It said charity funds were used to pay for gym membership for staff worth £2,120, rugby and cricket tickets totalling £800, and a £110 parking fine for former chief executive Naz Malik.
Mr Malik declined to speak to BBC Wales.
South Wales Police has investigated allegations of dishonesty by Awema personnel and has sent a file to the Crown Prosecution Service.
'Get to grips'
The latest WAO report - which says there is no evidence of inappropriate political influence by ministers - comes a week into the tenure of the Welsh government's newly appointed permanent secretary Derek Jones.
"I think he will need to get to grips with the whole issue of grant funding in Wales," Mr Barrett said.
The assembly's influential Public Accounts committee is already holding an inquiry into grants management.
Its chairman, Darren Millar, said the Awema episode was a "shambles".
"This is another case study in how not to manage a grant relationship," he said.
"That's the big lesson here for the Welsh government. They need to get a grip on this once and for all."