Alas Smith and Jones: Welsh Questions in the Commons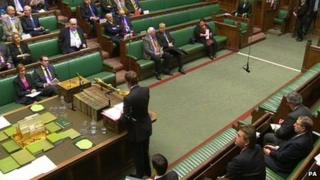 Political opponents were nice to each other, there were cross-party welcomes and tributes - and talk of former enemies working closely together.
Yes, the spirit of London 2012 lived on during House of Commons questions to the secretary of state for Wales, answered today, for the first time in that role by David Jones.
Well, up to a point. It took nearly 10 minutes before anyone mentioned the former minister sacked by the prime minister to make way for Mr Jones. And that tribute was initiated by Cheryl Gillan's predecessor, Labour's Peter Hain.
Mr Hain had jogged Mr Jones's memory: "Could I echo the tribute the right honourable gentleman paid to my predecessor who was an excellent secretary of state."
There had been cheers for Mr Jones as he rose to answer his first question, and equally large ones for his new deputy Stephen Crabb. There were even cheers for Tory backbencher Michael Fabricant's once traditional reference to his mother being born in Aberavon.
Mr Crabb has spent most of his parliamentary career in the whips' office so it was re-assuring to discover he does have a voice.
Answering his first question, he disclosed that one of the "most enjoyable parts" of his first term in parliament was serving on the Welsh affairs select committee. He didn't elaborate on any competing highlights.
David Cameron has made much of the new secretary of state's ability to speak Welsh, which came in handy today.
Labour's Kevin Brennan asked: "Llongyfarchiadau as we say in Wales but when the prime minister promised a respect agenda did he mean trying to block Welsh assembly legislation and unilaterally abolishing wage protection for agricultural workers in Wales and tearing up a cross-border GCSE exam system without consultation and if that's the case can he even spell the word respect?"
Mr Jones responded with "as we say in Wales, diolch am y llongyfarchiadau" before insisting he is fully committed to that agenda and "very pleased" with the relationship he is cultivating with the Welsh First Minister, Carwyn Jones.
Is he trying to block Welsh laws? "The reference of the first Welsh Bill, that is the Byelaws Bill, to the Supreme Court, should not be regarded in any sense as either disrespectful or hostile. It is simply an administrative procedure to clear up the issue of competence and that is it."
Tory David Davies chipped in with an ability to spell the word respect in Welsh. "Parch, as we say in Monmouthshire, is something that works in both directions and the refusal of Welsh assembly ministers to appear before select committees shows a disgraceful lack of respect not only to this house but to those of us who were put here by the people of Wales." (Mr Davies chairs one of those committees).
For Labour, the shadow Welsh Secretary, Owen Smith, asked Mr Jones to clear up his attitude to devolution. A good thing?
The issue, said Mr Jones, was developing. "I think that as the assembly and as the assembly government mature as institutions they could be very good for Wales indeed."
Mr Smith thought that "hardly a ringing endorsement of the devolution settlement". He said Mr Jones had previously said devolution had damaged the constitution, while Mr Crabb had described it as "constitutional vandalism".
Mr Jones didn't disown his former views but suggested they could all work together in peace, love and harmony (I paraphrase). "I believe that a lot more could be done to make Wales a happier place to live," said the secretary of state, who seemed happy enough to me.
You can check for yourself - with moving pictures - here.