Agricultural Wages Board: Wales-UK governments split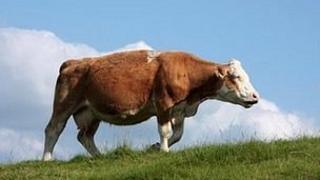 The Welsh government does not have the power to block the abolition of a panel that sets wages in farming, says a UK government minister.
The Westminster government has started a consultation on scrapping the board in England and Wales.
But the Welsh government opposes the move and argues that it cannot go ahead without the assembly's say-so.
The board sets the pay and conditions of more than 13,000 Welsh farm workers.
The Welsh government says the assembly's consent is required before the UK government can act.
But UK Farming Minister David Heath told MPs that although agriculture is devolved, wages control is not and it was "perfectly proper" for the government in Westminster to abolish the board.
Mr Heath promised to keep talking to Wales' deputy minister for agriculture, Alun Davies.
He said: "There are constitutional issues which I'm not going to go into. This is not a devolved matter at the moment - agriculture is, but wages control is not.
"That doesn't stop us having a perfectly sensible dialogue with Welsh colleagues to see if we can find a way forward."
Labour spokesman Huw Irranca-Davies said the Welsh government's consent was required for abolition - and that had not been granted.
Alun Davies told AMs last week that a "reasonable proposal" to establish a new board in Wales was turned down by former Environment Secretary Caroline Spelman.
The Welsh government insists the board's remit falls "squarely" within the law-making powers of the assembly and therefore AMs' consent is required before it can be scrapped.
Speaking before his meeting with Mr Heath, he said "extensive face to face negotiations and correspondence" with the Department for Environment, Food and Rural Affairs (Defra) and the Wales Office had not solved the disagreement.
Defra says the board - set up after World War II - is "outdated" and "obsolete" because of the introduction of the National Minimum Wage. Scotland has its own board.