Youth unemployment: Welsh government defends policy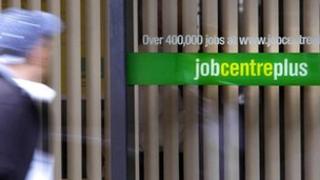 The Welsh government has defended a flagship policy to cut the number of young people on unemployment benefit.
Although the latest figures show unemployment fell in the three months to August, long-term youth joblessness in Wales is at a 15-year high.
Ministers say a scheme to get young people into work has helped 1,700 find jobs in its first six months.
But Plaid Cymru will press the minority Labour administration to do more as part of negotiations over its budget.
Recent figures show the proportion of 16 to 18-year-olds classed not in education, employment or training (Neets) rose from 11% to 12% last year - a higher proportion than in England.
It means there are 13,600 without a job and no place in school or college. Some surveys say the real figure could be even higher.
In September, 4,700 18-24-year-olds in Wales had been claiming jobseeker's allowance for more than a year - the highest it has been since spring May 1997.
The Welsh government has set aside £75m for its flagship job growth Wales scheme.
It subsidises the creation of six-month contracts for young people, with the intention of creating 4,000 jobs a year.
In a statement to the Senedd on Tuesday deputy skills minister Jeff Cuthbert said the scheme had created 3,161 opportunities so far and that 1,705 young people had found work.
But Plaid finance spokesman Ieuan Wyn Jones, the former economy minister, said the scheme does not go far enough and will use negotiations on the Welsh government's budget to push for the creation of more apprenticeships.
Without an overall majority in the Senedd, Labour needs help from the opposition benches to get its spending plans approved.
Mr Jones said: "It's not enough because we actually had seen youth unemployment rise before the recession, but it's increased substantially since and now we have over 50,000 young people in Wales without work, which means therefore that the jobs growth fund will touch less than 10% of those young people.
"What we don't want is to return to the 1980s when we had a lost generation of young people who never worked subsequently and we must therefore have plans in place to prevent that from happening."
Mr Cuthbert said: "There's a global recession, and the Welsh economy isn't insulated in any way from what's happening in the rest of the world. We've been hit pretty hard.
"Now we're trying to respond with the levers that are at our disposal. Much of the real tools remain with the UK government.
"Nevertheless in the fields where we are able to operate we've invested as much resource as we can and we are absolutely serious about doing what we can to reduce the number of young people who are not in education, employment and training and jobs growth Wales is an example of us, if you like, putting our money where our mouth is."