Home care users promised action by Welsh government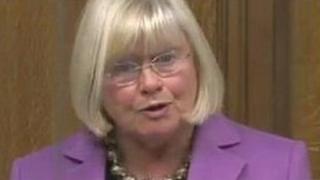 Action to improve services for people who need home care is being taken by the Welsh government.
Cynon Valley MP Ann Clwyd criticised the current system saying it provided inconsistent and unreliable services due to changes in contractors.
Ms Clwyd, whose husband needs care, says it is not the fault of the care workers but the poor practices of the companies that employ them.
A wide-ranging reform programme has been set out in a White Paper.
The Welsh government says legislation to implement the changes is expected to be passed next year.
It added: "Local government are responding to this with an action plan shortly that will include strengthening of commissioning domiciliary care services locally.
"The £50 maximum weekly charge for home care introduced by the Welsh government has had a significant benefit for service users."
A consultation on legislation to make it a requirement for managers of domiciliary care agencies to register with the Care Council for Wales and hold qualifications suitable for their role was recently announced, said the Welsh government.
"This is to ensure that children and adults who are receiving services can have confidence that there are safeguards in place to ensure the workforce they rely on to provide these vital services is properly trained, appropriately qualified and effectively regulated," it added.
It said it was "committed to raising standards of practice in the social care workforce to ensure vulnerable service users are protected".
'Upset'
Ms Clwyd, whose husband Owen Roberts has multiple sclerosis, told BBC Radio Wales that a changing pattern of care providers due to company takeovers or new contractors led to inconsistent service.
She highlighted a Which? report of care users who kept diaries of their experiences.
"For instance, since the carers have been taken over, they are paid let's say from 8am to 9am but they usually leave 10 minutes beforehand because they have to be at the next call at exactly the same time they are supposed to be with you.
"So they are given no travel time by their companies. That puts enormous pressure on them.
"This upsets people they are giving care to, they get no sick leave, so very often those carers who are low-paid people doing a very difficult job - and they go to work even though they are ill and that is unfair on them or the people they are delivering the care to."
Mitie, which has taken over Enara, the company Ms Clwyd's husband uses, said a "full review" would be taken of Enara's operations.
In a statement, it added: "We welcome a dialogue with Ann Clwyd and intend to contact her directly in the weeks ahead, to seek the valuable feedback and insights that she can provide.
"Mitie's expertise is in developing, motivating and training large and diverse teams of people to provide world class services.
"We intend to bring these skills along with innovations in quality and technology to Enara."