Home care staff under pressure, warns MP Ann Clwyd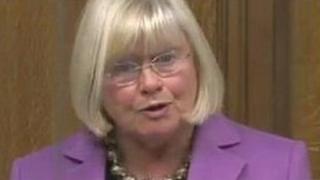 A Labour MP says she believes people who need home care are provided inconsistent and unreliable services due to changing contractors.
Ann Clwyd, whose husband needs care, says it is not the fault of the care workers but the poor practices of the companies that employ them.
She told BBC Radio Wales that the situation was unacceptable.
The Welsh government said it was planning reforms to improve matters for people who received care in the home.
Ms Clwyd said she was speaking out in response to her own personal experiences and those of her constituents in the Cynon Valley.
"My biggest concern now is that these small care companies in Cardiff in particular, where I've had direct experience, they're constantly being taken over by big predatory companies, usually in the south east of England," she said.
"The company that we are with, for instance, was taken over a few months ago by a big company in the south east of England which today has actually sold out to an even bigger company."
Ms Clwyd's husband Owen Roberts suffers from multiple sclerosis and she said the current system was not joined up.
'Quite amazing'
She highlighted a report by consumer watchdog magazine Which? had asked 40 carers to keep daily diaries to note their experiences.
"It's really quite amazing because it's similar experiences I've had over the last few weeks and before that," she said.
"They talked about missed visits, inconsistency, poor care, left vulnerable people confused and scared, hungry and in some cases at risk.
"I'm not claiming I've experienced some of those things but I have experienced one or two of them.
"For instance, since the carers have been taken over, they are paid let's say from 8am to 9am but they usually leave 10 minutes before hand because they have to be at the next call at exactly the same time they are supposed to be with you.
"So they are given no travel time by their companies. That puts enormous pressure on them.
"This upsets people they are giving care to, they get no sick leave, so very often those carers who are low-paid people doing a very difficult job - and they go to work even though they are ill and that is unfair on them or the people they are delivering the care to."
'Valuable feedback'
Mitie, which has taken over Enara, the company Ms Clwyd's husband uses, said a "full review" would be taken of Enara's operations.
In a statement, it added: "We welcome a dialogue with Ann Clwyd and intend to contact her directly in the weeks ahead, to seek the valuable feedback and insights that she can provide.
"Already, we have created a dedicated health advisory board which is responsible for ensuring Enara offers the highest standards of quality care.
"This is the first of many steps we will be taking in the coming weeks and months to ensure Enara has a long, sustainable future as a market-leading home care provider in Wales."
The Welsh government said in a statement that a wide-ranging reform programme is set out in a White Paper and it will be legislating to implement the changes next year while local authorities are responding with an action plan.
It said: "Deputy Minister Gwenda Thomas recently announced a consultation on legislation which will introduce a requirement for managers of domiciliary care agencies to register with the Care Council for Wales and hold qualifications suitable for their role.
"This is to ensure that children and adults who are receiving services can have confidence that there are safeguards in place to ensure the workforce they rely on to provide these vital services is properly trained, appropriately qualified and effectively regulated.
"The Welsh government is committed to raising standards of practice in the social care workforce to ensure vulnerable service users are protected."