Glastir farm scheme: AMs promise 'watching brief'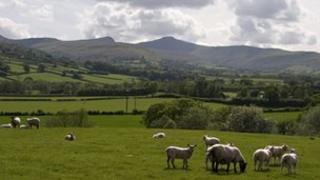 Ministers have been urged to show progress on a controversial farm subsidies scheme by the New Year.
There have been concerns the Glastir programme, set up in 2010 to pay farmers for looking after the environment, has been badly delivered and communicated.
A cross-party assembly committee is still concerned improvements have yet to be felt by farmers.
AMs are to keep a "watching brief" and look at progress again in January.
Glastir replaced five former land management projects, which see farmers paid subsidies in exchange for protecting wildlife habitats and the environment.
But the scheme, introduced under the previous Welsh government, has faced strong criticism from agricultural unions with worries that some farmers could lose out.
The Environment and Sustainability Committee believes more needs to be done to develop communications plans, support for farmers, record-keeping and support for woodlands.
The report makes 10 recommendations for action by ministers, saying the benefits of recent changes to the scheme have still not been realised by farmers.
'Clarity'
The committee welcomed reassurances from deputy agriculture minister Alun Davies, but said more needed to be done in some areas, including the support available for farmers.
Committee chairman Lord Elis-Thomas said: "These latest developments, to improve clarity and communication and support, would appear at first sight to allay some of the fears outlined to us by farmers and participating organisations.
"However, the committee believes it is too soon to tell at this stage.
"Therefore we have determined to keep a watching brief on Glastir and have recommended that the Welsh government provide us with an update on progress in early January."