Tories blame 'incompetent' government in vote mistake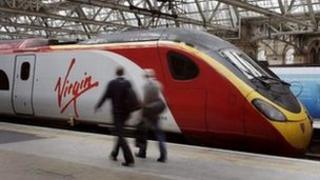 Conservative AMs mistakenly voted in favour of calling the UK government incompetent over its handling of the West Coast main line.
The Tories said the vote was a "genuine mistake" and it did not reflect their views.
The decision to award the rail franchise to FirstGroup was scrapped because of "technical flaws" in the bidding process.
AMs vote in the Senedd chamber by pressing buttons on their desks.
After a debate on Wednesday, Labour, Plaid and Conservative AMs voted for a motion noting the franchise's importance to north Wales and the "UK government's incompetence".
A Tory spokesman said: "This was a whipping mistake and does not reflect the views of the Welsh Conservative group.
"Our contributors to the debate made our position clear congratulating the UK government on its commitment to electrification, which represents the single biggest infrastructure investment in Wales in decades."
The route serves 31 million passengers between London, the West Midlands, the north-west of England, North Wales and Scotland.