Swansea tattoo parlours debated in Supreme Court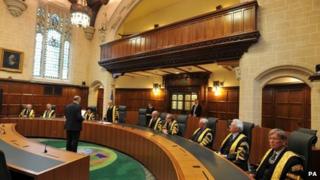 It was the day that byelaws regulating tattoo parlours in Swansea came to the highest court in the land.
The magnificent main oak-panelled courtroom in the Supreme Court, across the road from the Houses of Parliament, was packed with judges, lawyers, constitutional scholars, journalists - and some profoundly baffled foreign tourists - to hear the debate as to whether the first bill passed by the Assembly was lawful or not.
There was even a touch of celebrity with fashion designer David Emanuel and his daughter sitting in the back row of the public gallery.
The UK Attorney General had referred the case of the Local Government (Byelaws) (Wales) Bill to the court because - in his opinion - the assembly had overstepped the mark by taking away the right of UK ministers to confirm Welsh byelaws in areas such as swimming baths, mortuaries, tattoo parlours and acupuncturists.
Several of the five senior Lord Justices hearing the case seemed at times somewhat perplexed by the reasons why it had been brought.
Lord Carnwath asked the Attorney General's QC rather quizzically why it was so important to the secretary of state that they should continue to have the right to confirm Swansea council's byelaws relating to what he called "tattoo clinics".
The answer, from Jonathan Swift QC, was that there was an important point of law, that the assembly should only pass acts which were firmly within its powers.
Both Mr Swift and the Welsh government's Counsel General, Theo Huckle QC were subjected to rigorous, forensic questioning by each of the judges, headed by the president of the court, Lord Neuberger.
Mr Huckle pointed out that the UK government had shown precisely no interest in the powers relating to byelaws in Wales since devolution in 1999 until the bill in question was put through the assembly.
At times it seemed to be the constitutional equivalent of trench warfare, with long minutes spent dissecting the exact meaning of words like "concurrently" "consequential" and "incidental" in the context of legislation in some cases going back decades.
Few of the tourists visiting the court's proceedings lasted long in the courtroom, as the intricacies of drafting legislation and the history of Welsh devolution were examined in detail.
Most left with furrowed brows, many presumably to visit Westminster Abbey across the road.
Mr Huckle will at least have felt at home in terms of the court's carpeting and logo, which carries a motif including a leek, along with the national flowers of England, Scotland and Northern Ireland to signify the court's UK-wide reach.