David Jones: 'I'm not competing with Welsh government'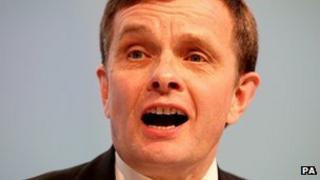 David Jones says the UK and Welsh governments must work together for the sake of the economy in his first Conservative Party conference speech as Welsh secretary.
Political differences should not get in the way of what is best for Wales, he said.
The Clwyd West MP replaced Cheryl Gillan in September's reshuffle.
Prime Minister David Cameron has said he wanted an MP with a Welsh seat to do the job of Welsh secretary.
In his speech to the conference in Birmingham on Monday, Mr Jones set out what he called a "mature, sensible approach to devolution".
'Competition'
"Together, we must send out the message that we want Wales to be competitive with the rest of the world," he said.
"We are not in competition with each other."
But he did attack the records of the Labour governments that have been in power in Cardiff and Westminster since devolution.
He said that throughout the 13 years since the assembly's creation, Wales has become "progressively poorer" compared to other parts of the UK and Europe.
In his view, Wales desperately needed new infrastructure and commended his predecessor's contribution to the UK government's decision to electrify railway lines in south Wales.
"So there is much that we at Westminster can do, are doing, and have done, to help rebuild the Welsh economy," he added.
"But we can't do it alone.
"Economic development is the devolved responsibility of the Welsh government - which is, of course, a Labour government.
"But let me say clearly here today that for my part, I don't intend to allow political differences to get in the way of working with the Welsh government in seeking to do our best for Wales."
Speaking in Birmingham at the weekend, Mr Cameron said Mrs Gillan, who represents the Buckinghamshire constituency of Chesham and Amersham, did "a great job, but I think now it is right to have a Welsh MP and a Welsh constituency at the heart of cabinet".