Energy: Carwyn Jones' jobs warning over soaring costs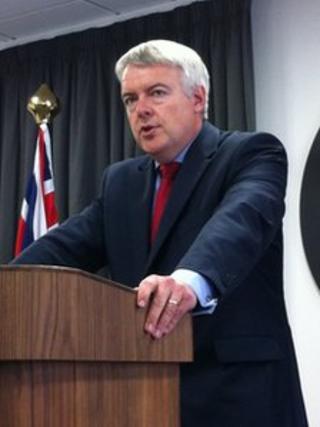 Businesses could take investment and jobs abroad unless high electricity and gas prices are addressed, Carwyn Jones has said.
The first minister says sectors that use large amounts of energy, including steel and IT, have warned him they are struggling with rising bills.
The UK government urged businesses to have their say in a consultation.
It is designed to reduce the impact of climate change policies on electricity costs for energy-intensive industries.
Mr Jones told BBC Wales: "They are saying compared to other countries in Europe, Britain is expensive.
"That means it's more difficult to get investment into manufacturing in the UK, but it also makes it difficult for some of them in the future to justify keeping operations here.
"We have to deal with this sooner rather than later, otherwise we will lose out."
He added: "If we're saying we want to have industry, some of which are energy intensive, and all of which have done a great deal to bring down their energy consumption, if we want them to be in the UK we have to make sure our energy prices are competitive or they are going to go to France, Spain or Germany."
'Economically unviable'
Next Generation Data, which runs the largest data centre in Europe on the outskirts of Newport, says it is feeling the effects of rising costs.
Company chairman Simon Taylor said: "We located primarily here in south Wales to offer a Rolls-Royce product at half the price of London and the M25 market, and we've been very successful in doing that and attracting some very, very good names here.
"However, the power pricing in our product always remains a challenge, so it's somewhat economically unviable, power in the UK, and it does cause us some problems."
The UK government says Wales has an opportunity to become a renewable energy hub, with liquefied natural gas already being imported through Milford Haven in Pembrokeshire and huge potential investment in wind and tidal power.
Wales Office minister Stephen Crabb said increasing the home-grown energy sector would benefit business and individual consumers.
"It reduces our exposure to volatile high international oil and gas prices, and ultimately will help keep bills down in the long term, I'm confident of that," he said.
"Now in the short term there is a real issue around high prices for energy, and that's driven a lot by international gas prices.
"And so as a UK government we're looking at really important ways to support energy-intensive industries that use a lot of this energy and for whom costs are becoming prohibitive at the moment."
The UK government has also launched a consultation on a £250m scheme to ensure new measures to limit the impact on businesses of new rules to combat climate change.