Jane Hutt: Welsh government budget at 'rock bottom'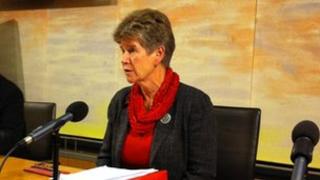 Wales' finance minister has warned opposition parties she has very little room to manoeuvre on her budget.
Opponents attacked Jane Hutt's spending plans when she published them on Tuesday.
Ms Hutt said the Welsh government would use its £15bn budget to help grow the economy.
The Labour administration does not have a majority in the assembly so needs the votes of opposition AMs to approve the budget.
Ms Hutt suggested she would struggle to pay for the demands of opposition parties because the Welsh government's financial reserves were at "rock bottom".
'Transparent'
She had tried to "reflect in this budget political priorities across the chamber", she said.
"I have been very clear and transparent about what's on the table," she said.
"We are at rock bottom level in terms of reserves.
"As far as we are concerned we are putting on the table what the budget is."
The budget goes to the end of the UK government's spending review period.
It sets out spending plans for 2013/14 and outline plans for the following financial year.
With 30 of the assembly's 60 seats, Labour cannot pass the budget on its own. A final vote is expected to take place in December.
Last year's budget was passed after a deal with the Liberal Democrats over extra funding for the least well-off pupils.
Tuesday's draft budget maintains the funding, which provides schools with an additional £450 for every child who receives free school dinners.
But the Welsh Lib Dems said they cannot support it in its current form.
The Welsh Conservatives say the budget "snubs" the health service and Plaid Cymru want more help for the economy.
Ms Hutt also used the budget to reaffirm Labour's commitment to universal benefits which have come under scrutiny in an era of spending cuts.
The Welsh government was "steadfast" behind policies such as free prescriptions and free breakfasts at primary schools, she said.