Rivals attack 'Groundhog' budget from Welsh government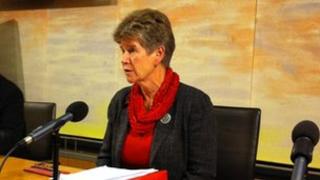 Opponents have criticised what they called a "Groundhog Day" draft budget from the Welsh government.
Finance Minister Jane Hutt hailed a budget for "growth and jobs" - the second year she has used the title.
But if the slogan is familiar, so too are the demands of the three opposition parties.
Conservatives repeated a call for more health spending, the Liberal Democrats want more for schools and Plaid Cymru focused on the economy.
Ms Hutt said she had tried to reflect the political priorities of all parties in her spending plans for next year.
The minority Labour administration will need help from the opposition benches to get the budget approved in the Senedd.
The Tories have attacked the level of health funding contained in the draft budget for next year.
They have repeatedly criticised Labour for not providing more protection for the NHS.
The Welsh government says to do so would force deeper cuts elsewhere and that it has done the best it can following big cuts to its own funding from the Treasury.
Welsh Conservative finance spokesman Paul Davies said: "It's Groundhog Day for our National Health Service. Snubbed again and still facing the toughest funding settlement in the UK."
'No ambition'
He added: "While our NHS is snubbed, the economy is mistreated.
"There is no ambition. There is no action."
Plaid is likely to use budget negotiations with ministers to demand more help for the economy, as it did last year.
Plaid finance spokesman Ieuan Wyn Jones said: "We also want to see the Welsh government doing more to target youth unemployment, which has increased dramatically over recent years.
"We don't want another lost generation as happened in the 1980s under Thatcher."
Last year's budget was secured because of a deal with the Lib Dems on funding for the least well-off pupils.
The funding, which gives schools an extra £450 for every child receiving free school meals, is maintained in the latest round of spending plans.
But Welsh Lib Dem finance spoeksman Peter Black said the government must do more
"In its current form, the Welsh Liberal Democrats cannot support the draft budget as we don't believe it goes far enough to tackle the problem of making sure that children from deprived backgrounds get the fair start in life they deserve," he said.
"In short, the budget should go further to ensure that children's achievement at school should reflect their ability not their background."