MEP John Bufton denies UKIP is a single-issue party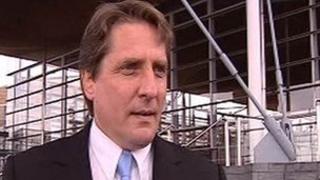 UKIP's MEP for Wales has insisted his party is not a single-issue party.
But during a BBC Wales interview, John Bufton tried to steer the conversation towards Europe and struggled to answer questions about the party's policy on tax.
Speaking as the party's conference got under way in Birmingham, he predicted UKIP would do well at European elections in 2014.
UKIP holds one of Wales' four seats in the European parliament.
Mr Bufton repeated a demand by UKIP leader Nigel Farage that a pact with the Conservatives on a referendum on membership of the EU would have to be "written in blood".
'Trust'
"The trouble is we can't trust the Tories at the end of the day," he said.
"As far as I'm concerned nothing is on the table at all. There's no deal.
"We are going to fight the 2014 European elections which I think we'll do very well in and the year after we've got the general election."
Asked on the Good Morning Wales radio programme whether UKIP was a one-issue party, he said: "No we've got a whole host of policies and we'll have them all fully costed for the general election when it comes in 2015."
He said the party would introduce a flat-rate income tax, but could not say at what percentage of income it would be set.
"I haven't got the figures in front of me," he said.
At the last general election UKIP said it would merge income tax and national insurance to create a flat tax of 31%.
Mr Bufton said: "The bottom line is we've got a whole manifesto of policies which will come in for the 2015 general election."
On education, he said the party wanted to see GCSEs scrapped and was in favour of grammar schools.
UKIP would dismantle windfarms in favour of nuclear power because wind turbines "are going to blight most of Wales" and "don't work", he said.
He said the party's policy on the Welsh assembly was a "work in progress".
UKIP has previously said it would abolish AMs and make MPs do their work.
But Mr Bufton said the party was "going through a policy change" for the next assembly election and that nothing had been finally agreed.