GCSE grades: Plaid Cymru urges Welsh assembly inquiry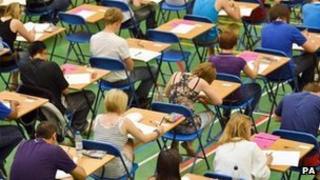 Plaid Cymru members have unanimously approved a motion calling for a Welsh assembly inquiry into GCSE regrading.
It blamed education minister Leighton Andrews for the decision to change the threshold for a grade C in English.
Plaid education spokesman Simon Thomas told the party conference in Brecon: "He set up the system, he allowed civil servants to negotiate this with Ofqual - he allowed this situation to happen."
Mr Andrews has said he acted "on the basis of proper evidence and advice".
The row had undermined the credibility of the exam system, he said.
However, earlier Plaid AM Lord Elis-Thomas told BBC Wales that Mr Andrews had been right to order a regrade this week.
Mr Andrews is in dispute with UK Education Secretary Michael Gove, who has refused to order a regrading of GCSE English papers taken by pupils in England.
'Early scrutiny'
Lord Thomas said it was "high time David Cameron told his ministers in England, when they are acting as an English minister" not to "use that position to attack the policies of elected Welsh government".
He said: "Welsh ministers are Welsh ministers. They have the responsibility for education in Wales and they should be allowed to deliver that without sniping by English ministers who are in deep political trouble themselves."
Plaid leader Leanne Wood told BBC Wales that she would not say Lord Thomas was wrong for fully backing Mr Andrews's position, but she supported Mr Thomas's call for early scrutiny of "how the whole mess arrived".
She said: "There are a number of different questions that need to be answered by the education minister and I think we're only doing our job in terms of scrutiny by calling for the minister to answer those questions."
Meanwhile, Ms Wood will promise a "green new deal" to stimulate the Welsh economy in her keynote conference speech later on Friday.
She will tell supporters the party would "aim to provide skills, work, hope and opportunity" for young people, and concentrate on issues of immediate concern to voters, rather than constitutional matters.