New secretary of state heads north to meet the Queen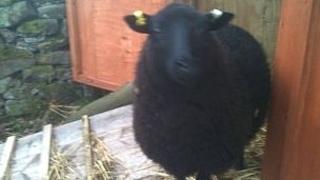 Followers of the new Welsh secretary on Twitter will be relieved to know that David Jones has managed to escape from that pub in Shrewsbury.
The Clwyd West MP has travelled today to Balmoral to be formally sworn in as secretary of state in a ceremony known to readers of the court circular as "kissing hands" although ministers are no longer expected to confirm their loyalty by physically kissing the monarch's hands.
The need to travel to Balmoral was one reason given last week for a delay in the new secretary of state meeting the leader of the Welsh Conservatives in the National Assembly for Wales. (Apologies if I'm playing catch-up on this, a family bereavement delayed my reshuffle coverage).
The holder of that post, Andrew RT Davies, is keen to upgrade his job title to "leader of the Welsh Conservative Party", an idea that irritated Mr Jones's predecessor, Cheryl Gillan.
So far, publicly at least, Mr Jones has sidestepped questions about his views on this issue. So we don't know whether his views have changed since the last Welsh Conservative conference.
Then, he publicly and very deliberately introduced Cheryl Gillan to the audience as: "the leader of the Welsh Conservative Party".
Once the formalities of his appointment have been completed, Mr Jones can get on with his job. He needs a new parliamentary private secretary (another unpaid role) and a new special adviser. As a keen fan of The Thick of It, his choice of the latter could prove interesting - he's expected to appoint his former researcher, Lauren McEvatt.
Cheryl Gillan will spend her time on the backbenches fighting UK government plans to build a high-speed rail line through her constituency.
Free of ministerial office, she will also have more time to spend with her menagerie of animals on her family home in Derbyshire.
Readers of one of her (since deleted) twitter accounts were suspicious about its veracity as the photograph attached was one of a black sheep.
Readers of this blog may recall how she acquired two black Welsh mountain sheep last year - a continuing reminder of her roots and her time spent at the Wales Office.