Cheryl Gillan: Ex-minister in economy before powers call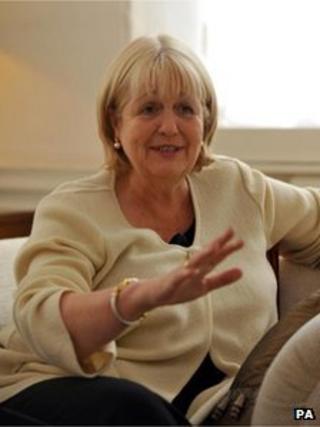 Former Welsh Secretary Cheryl Gillan has called for the Welsh government to forget about more powers and work with the UK government to boost the economy.
Mrs Gillan, replaced by Clwyd West MP David Jones, told BBC Radio Wales: "I would put further devolution on hold."
Mrs Gillan said delivering rail electrification in south Wales had been the highlight of her time as the first female Welsh secretary.
The Welsh government said it did not seek powers for the sake of it.
Chesham and Amersham MP Mrs Gillan said she now had "plenty of other things to do".
Paying tribute to her successor, Mrs Gillan said he had "a tremendous amount of work to do".
"You need a team that's going... to try and get the governments together to make sure basically that Wales doesn't lose out," she said.
"Wales' economy needs an enormous boost and that can only be done by the two governments working together.
"A lot of the relationships between the two governments need to be closer. It shouldn't always be the Welsh government always asking for more powers and the UK government always saying no."
Mrs Gillan called for the Welsh government to "bed down and get used to using the powers it has got".
"I wouldn't look at any further powers for some time," she said. "(Financial responsibility) comes first."
Looking back over her time in office, Mrs Gillan said she felt nothing but grateful to have had "a fantastic opportunity" to represent Wales in the UK cabinet.
She said she hoped she had left "a little bit of a mark in a positive way" in the land of her birth.
With regard to her sacking, Mrs Gillan said she would not divulge any details of her conversation with Prime Minister David Cameron, other than to say that he had always made no secret of his thinking that a Welsh MP would eventually take the role.
She added: "Just rest assured that I'm not the crying type."
At the weekend Mrs Gillan hit out at the HS2 scheme for a London to Birmingham high speed rail project, which is due to run through her constituency.
A commission set up by the UK government is looking at the future of devolution and at how the Welsh government is funded, including the possible devolution of some powers over tax.
A Welsh government source said: "The Welsh government never requests additional powers for the sake of it.
"When we believe we need powers to improve the lives of Welsh people, we ask for those powers and we argue the case clearly and coherently.
"As for MPs from outside of Wales calling for a blanket decree - saying there should be no further powers devolved on anything - that's not a sensible way forward in a modern devolved Britain."