Nick Clegg: Randerson's Wales Office focus on education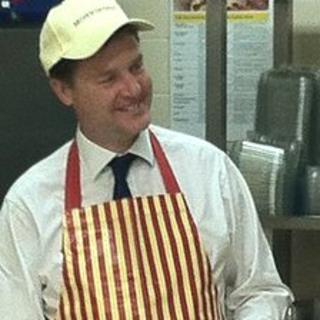 New Liberal Democrat Wales Office minister Baroness Randerson will concentrate on education, says her party leader Nick Clegg - even though the policy is devolved.
Baroness Randerson joined the UK government in this week's reshuffle.
The deputy prime minister said he pushed to expand the department to three ministers.
The department includes a Lib Dem for the first time to "fly the flag for the kind of Wales we want to see," he said.
Baroness Randerson - who as Jenny Randerson was Cardiff Central AM from 1999 - 2011 - will team up with two Conservatives: Welsh Secretary and Clwyd West MP David Jones, and Preseli Pembrokeshire's Stephen Crabb, who is also a junior minister.
Responsibility for education in Wales lies with the Welsh government, rather than the UK coalition in Westminster.
Mr Clegg said: "I just felt when I was looking at where I wanted to move Liberal Democrat ministers it was important to me that we had a strong, clear, Liberal Democrat voice in the Welsh Office.
'More devolution'
"The Liberal Democrats have a long, proud tradition of representing Welsh communities, Welsh families, Welsh constituencies, and I just felt that without having a minister in the Wales Office, maybe we weren't able to really fly the flag for the kind of Wales we believe in - more devolution for Wales, but within the United Kingdom, concentrating in particular on the education system in Wales and making sure that, while that's devolved, that London and Cardiff work together for the benefit of children in Wales."
He was speaking on a visit to Cardiff to promote the Youth Jobs Contract, a UK government to push to get more young people in to work.
Labour shadow Welsh secretary Owen Smith MP said Mr Clegg was "the man who sold an entire country down the river by propping up a vicious Tory government in Westminster, and blithely enabling savage cuts to police numbers, tax credits and support for the most vulnerable".