The unexpected Wales Office call for Baroness Randerson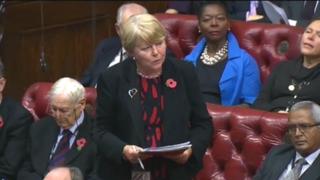 As David Cameron's reshuffle unfolded, the rumours grew that the new Welsh secretary, David Jones, might get an unexpected deputy - the Liberal Democrat Baroness Randerson.
Even as Tories worked side-by-side with their coalition partners across Whitehall, since May 2010, Gwydyr House has remained a Tory-only zone, with the now former Welsh Secretary Cheryl Gillan and her then deputy Mr Jones running the show.
But the rumours were true, and Baroness Randerson - in a previous political life the Liberal Democrat AM for Cardiff Central, Jenny Randerson, has been appointed a deputy.
But not, it transpires, the deputy to David Jones.
Why not? Because instead of one deputy, Mr Jones will have two - with the Conservative MP for Preseli Pembrokeshire Stephen Crabb also joining the Wales Office - but remaining also in his old job in the whips office - and possibly in a more senior role.
Confused? You could be forgiven. If the promotion of David Jones was predictable, the appointment of his deputies - and the manner of it - has been anything but.
Political pundits and and opposition politicians are scratching their heads at Mr Crabb's two jobs.
Traditionally the whips have been a breed apart, keeping the discipline among unruly backbenchers, not getting their hands dirty at the departmental coalface.
Whips don't often speak in the Commons, if ever, so that will be another novelty for the man from Pembrokeshire should he also be fielding questions at the dispatch box.
The appointment of Baroness Randerson is, if anything, more intriguing.
In her response to her appointment she says she is delighted and honoured to be taking on the role and "as a committed devolutionist... particularly looking forward to developing the working relationship between the Welsh government and the Wales Office to ensure that we all work together to enhance the lives of the people of Wales".
Unpopular proposals
That may come as some relief to those at the top of the Welsh government whose welcome for Mr Jones was lukewarm, based on a somewhat astringent relationship in the past. They may find the baroness more emollient - assuming her new boss is willing for her to take that role.
One downside for the Welsh Liberal Democrats in the assembly is that their recent strategy of distancing themselves from the more unpopular proposals of the UK government, such as regional pay and cuts to welfare, will now be a whole lot harder with one of their former colleagues newly installed in the Wales Office.