David Jones receives Wales Office baton from safe pair of hands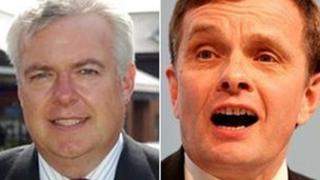 As Cheryl Gillan leaves the Wales Office, she passes the baton to her former deputy David Jones.
Welsh Conservatives will have mixed feelings about the departure of Mrs Gillan.
Not because they don't like her - far from it. She has been popular in the Welsh wing of the Conservative Party since David Cameron appointed her shadow Welsh secretary in 2005.
Her supporters praise her courteous manner and can point to successes while in office, including last year's referendum to give the assembly direct law-making powers.
That it took place without causing a major row in the Conservative Party arguably proved her credentials as a safe pair of hands. It wasn't that long ago the party was campaigning against devolution.
But as reshuffle speculation gathered pace, even her fans were forced to admit she had one big failing.
Despite her competence, she wasn't Welsh enough.
Born and raised in Cardiff, Mrs Gillan proudly extolled her Welsh roots.
But the fact that the Welsh secretary represented a constituency in the home counties was a potential weakness for her party.
We're told Mrs Gillan was prepared to resign from the government in protest against plans to build a high speed rail route through her Chesham and Amersham constituency.
Opponents ask if she would have done the same had the government refused to electrify the rail lines in south Wales?
Luckily for the government, the dilemma never arose. The proposed upgrade of south Wales' rail network has been signed off.
That will surely count as her biggest success. The squabbling over who deserves the praise will continue, but the fact remains that the UK government has pledged to modernise Wales' railways - and it happened on her watch.
Nevertheless, the longer she stayed in office the more the Conservatives' opponents would ask questions.
In an era when the Welsh Conservatives are trying to forge a distinct Welsh identity, were none of the eight Tory MPs with Welsh seats good enough to represent Wales in the cabinet?
David Cameron has scotched that line of attack.
Welsh Tory MPs and AMs wanted one of their own in the Wales Office. Whatever their opinion of Mrs Gillan and her successor, they've got what they wanted.
David Jones has been the MP for Clwyd West since 2005. Before that he was briefly an AM. And he's had a decent apprenticeship for Welsh secretary, having served as Mrs Gillan's deputy since 2010.
His promotion to his boss's old job is not a surprise. He was widely seen as an obvious candidate, together with Preseli Pembrokeshire MP Stephen Crabb.
So nothing on his to-do list should come as a surprise when he arrives at his desk.
He will be involved in a Supreme Court challenge by the UK government to an apparently innocuous piece of legislation passed by the assembly about local government byelaws.
He knows all about the ongoing Silk Commission into the future of devolution.
He will be familiar with the arguments of Carwyn Jones' Labour administration in Cardiff which wants changes to the way it is funded by the Treasury.
And he'll be aware that Mr Jones doesn't like one bit the UK government's proposals to alter the assembly's electoral system. This should be a matter decided in Cardiff Bay, not Westminster, says the first minister.
Once the pleasantries are dispensed with, Welsh Labour will not want to squander any opportunities to wrong foot the new man.
How will Mr Jones - David, that is - respond? There are no shortages of potential flashpoints between the two Mr Joneses.