Cabinet reshuffle: Cheryl Gillan may lose Wales Office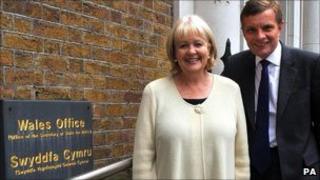 Speculation is mounting that Welsh Secretary Cheryl Gillan will be replaced in David Cameron's first major reshuffle since forming his government.
There is pressure from Conservatives for her successor to be an MP with a Welsh seat.
Possible contenders include Wales Office minister David Jones and Stephen Crabb, a whip.
Mrs Gillan, whose constituency is in Buckinghamshire, has been Welsh secretary since 2010.
Minister for Disabled People Maria Miller, who was brought up in Bridgend, has also been named as a potential successor.
But there is concern in Welsh Tory ranks that the fact that her constituency of Basingstoke in Hampshire would be a problem.
David Davies, the Conservative MP for Monmouth, said appointing another Welsh secretary who represents an English constituency would be "politically very difficult for us on the doorstep to explain" at a time when the Tories hold eight Welsh seats.
Clwyd West MP Mr Jones and Preseli Pembrokeshire's Mr Crabb had earned a place in the cabinet, he told BBC Radio Wales.
Mr Jones was elected in 2005, having previously been an AM from 2002 to 2003. He was appointed parliamentary under secretary of state at the Wales Office after being re-elected in 2010.
Mr Crabb has held the Preseli Pembrokeshire seat, where he grew up, since 2005. He was made an assistant government whip in the coalition with the Liberal Democrats.
Other Welsh Tory sources, speaking anonymously to BBC Wales, said they also wanted a Welsh MP.
The changes could come later on Tuesday and although Chancellor George Osborne, Home Secretary Theresa May and Foreign Secretary William Hague are expected to keep their jobs, several other cabinet ministers could be moved.