Home schooling: Parents in Wales must register children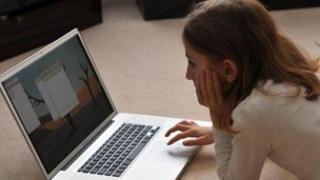 Parents in Wales will have to tell local councils their children are being schooled at home under new proposals.
The Welsh government has outlined plans to put a legal duty on the parents of children who are taught at home.
It would create a compulsory registration system, but would not force home-schooled children to follow curriculums or sit national exams.
Last year 986 children of compulsory school age were known to have been taught at home.
But it is difficult to compile accurate figures because parents are not currently required to register home-schooled children with their local authority, unless the child is registered at a special school.
'Law shortcomings'
Education Minister Leighton Andrews said the existing laws had shortcomings.
Without a requirement for parents to notify councils "it is very difficult for local authorities to carry out their duties to ensure that children are receiving a suitable education," he said.
"The proposals in this consultation are not designed to prevent children from being home-educated," he added.
"They are aimed at ensuring that those children who are home-educated receive a suitable education.
"Home educators are not required to follow a particular curriculum, adopt school-based approaches, nor are their children required to take national exams or assessments. The proposals do not change that position."
He said the information gathered under his proposals would allow councils to assess whether parents make sure children get a suitable full-time education.