Wales on target to cut waste dumped at landfill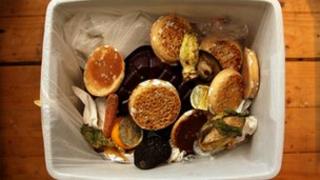 Councils have cut the amount of biodegradable rubbish they send to landfill sites by more than half in seven years.
They were praised for meeting targets on the amount of waste that is buried underground a year early.
Authorities face big fines if they fail to meet targets set under a European Union directive.
Last year 389,738 tonnes of biodegradable waste - such as paper and food - went to landfill sites.
That is within the maximum allowance and 54% less than in 2005/06 when a monitoring scheme began.
All 22 councils met their targets, although Torfaen used 99% of its landfill allowance.
The Environment Agency says reducing the amount of rubbish which goes to landfill will prevent the release of methane, a greenhouse gas that is created when waste breaks down.
Substantial fines
All councils now have separate collections for leftover food, with the waste composted or used to create biogas for fuel.
Welsh Local Government Association environment spokesman Neil Rogers said: "With councils facing the threat of substantial fines we hope people will continue to make the most of their local recycling facilities, as it is only through their participation that local councils will be able to meet the increasingly ambitious waste targets of the future."
Next year councils will only be allowed to send half the waste that went to landfill sites in 1995.
By 2020 it will be capped at 35% of what it was in 1995 under the EU landfill directive.
Environment Minister John Griffiths said: "Burying all our rubbish in the ground and leaving it to rot is no longer an option - it uses up our precious land and damages our environment - and so it is essential that we to build on this progress and continue to meet the challenging EU targets right up to 2020."