Conservatives criticise Welsh ministers' £72 ring binders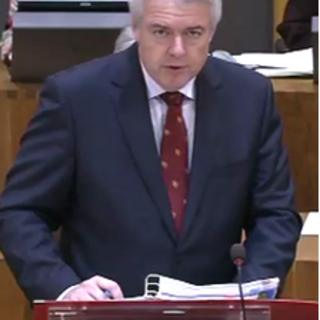 The Conservatives have criticised the Welsh government for providing ministers with ring binders at a cost of £72 each.
A written answer to the Welsh Tories shows £648 was spent on nine red binders to carry ministerial papers.
The Tories said it showed the Cabinet was "out of touch" and said the money should be spent on school equipment.
The Welsh government said it was the first time ministers' folders had been replaced in 12 years.
Ministers can be seen using the binders when appearing before AMs in the Senedd chamber.
Opposition leader Andrew RT Davies made fun of First Minister Carwyn Jones's "nice, new, shiny" folders at question time on Tuesday.
Mr Jones said: "I'm more than happy to pass the binder on to him if ever he gets enough votes to justify it."
He added: "What worries me about this is that at a time when we talk about education, about skills, about health, about jobs, about the economy, about the Eurozone, about making sure people feel they have a bright future, the best the leader of the opposition can do is talk about stationery.
"That is the limit of his ambition for Wales."
Mr Davies replied: "Actually I wouldn't spend £72 on a binder when you can buy red binders like you've got for 30p in Tesco."
In a statement, he said: "The people that really need easier access to equipment like this are school pupils.
"In the current climate, these grandiose purchases are symptomatic of a Cabinet that is completely out of touch.
"The cost involved may be a drop in the ocean - but it is more proof that the first minister's priorities are skewed."