Leanne Wood: Wales will be independent in a generation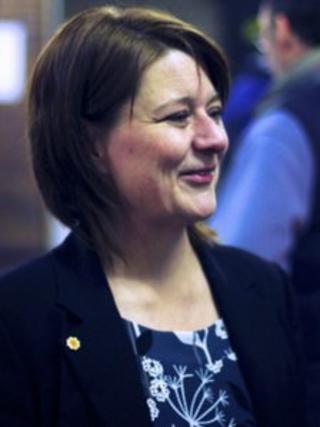 Wales will be independent within a generation and part of a British "neighbourhood of nations", according to Plaid Cymru's leader.
Leanne Wood says the UK's nations share a common language and cultures shaped by their relationships with each other.
"England is not just a neighbour to us," writes Ms Wood in The Scotsman. "She is our sister nation too."
With Scotland due to vote on independence in 2014, British history is at "a hinge point", she says.
Ms Wood was in Scotland on Friday for a meeting of the EFA - the European parliament group to which Plaid and the SNP belong.
'Partnership'
In an article for The Scotsman newspaper, she suggests the British-Irish Council could be a forum for future co-operation between nations.
She says: "With a seat for everyone at the table there will be plenty of areas where we will be able to pool and share solutions and creativity in a strong partnership of equals, which, within a generation, I am sure, will include an independent Wales.
"Instead of clinging to the straitjacket of the single state it's time we all began to embrace this future Britain, a neighbourhood of nations, sovereign, democratic and free."
Plaid committed to achieving independence for Wales last year and Ms Wood ran under a banner of "real independence" during the Plaid leadership election.