David Melding AM launches policy think-tank Gorwel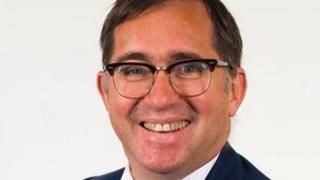 A centre-right political think-tank is being launched to discuss ways to improve public policy in Wales.
Conservative AM David Melding is a founder of Gorwel, the Welsh Foundation for Innovation in Public Affairs.
Mr Melding, the assembly's Deputy Presiding Officer, has previously said he hopes nationalists, Liberal Democrats and Conservatives will engage in debate.
The think tank will be launched in Cardiff at 19:00 BST.
Mr Melding said Gorwel - the Welsh word for horizon - would examine issues ranging from economics to bilingualism.
The AM for South Wales Central added: "I think we are seeing Wales as a maturing democracy and we need more think-tanks.
"We don't have many compared to Scotland and obviously compared to the number in London we're very few indeed, so we need some more.
"A group of us just felt that a think-tank that emphasises the role of the individual and enterprise within the community would be a good focus for ideas."
Former Labour AM, Tamsin Dunwoody, agreed there was "always room for another think tank", but questioned, "financially where is the think tank going to be allied?"
She added: "Is he trying to influence policy just in Wales , or is he going to try and influence his friends in London?"